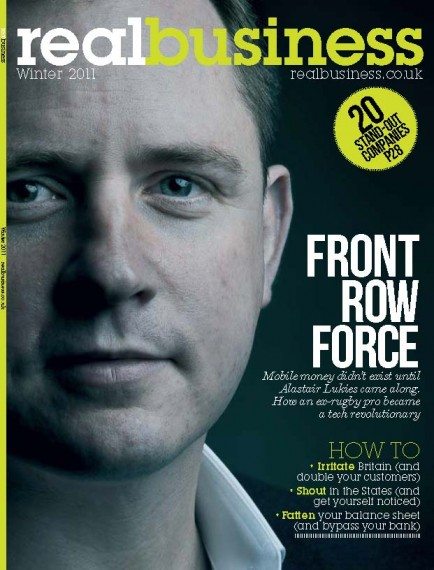 Do you receive Real Business magazine? Our
Winter edition
is now out, featuring former rugby-pro Alastair Lukies, the founder of
Monitise
, on the cover. Lukies, our Growing Business Awards Entrepreneur of the Year, has performed the seemingly impossible task of getting the UK's banks and mobile operators to collaborate. His business, AIM-listed Monitise, is one of our top 20 businesses of the year. Flick through the
winter edition of Real Business
now. You can also read:
"Venture capitalists are evil": We pitch Karen Darby (founder of SimplySwitch) against David Peto (founder of Aframe) in this month's great debate.
Q&A with Toby Perkins, Labour's Shadow Minister for Small Business.
Go Compare! Go Compare! It's the advert that we all love to hate. But is it effective? Founder Hayley Parsons gives us the grit on the Gio Compario campaign.
He's competed in the Olympic Games six times. He's won 47 international medals. British pro swimmer Mark Foster knows exactly what it takes to deliver results. He's got a few (gold) nuggets for Real Business readers.
It's the ultimate powerhouse of innovation. Here are the places to see ? and be seen ? in Silicon Valley.
Mumpreneur Annabel Karmel, best-selling author and family food expert, gives us a glimpse into her work wardrobe.
Do you want to receive
Real Business
?magazine straight onto your desk? Sign up here to receive the print edition. You'll also have the chance to win a year's free membership, worth ?675, to
private concierge service Innerplace
,?providing access to the best and most exclusive entertainment in London. Members can enjoy reservations at the most sought-after restaurants, VIP entrance at exclusive nightclubs and members? lounges, access to film premieres, celebrity parties, sold-out shows, sports events, concerts and prestigious global events.
Sign up
to receive Real Business magazine.
Share this story