When asked whether they would like to see a reduction in corporation tax, open immigration, a late payment policy, employment law changes or a reversal of Brexit, 34 per cent of senior decision maker respondents plumped for Britain remaining part of the European Union. As part of the annual Real Business FDs" Satisfaction Survey, over 1,000 FDs, CFOs, CEOs, chairman and other senior management personnel were asked a number of key questions. Unsurprisingly given their desire to see a Brexit reversal, 45 per cent said Brexit was their biggest macro worry. This was followed by the skills gap (19 per cent), interest rates (18 per cent) and cyber crime (nine per cent). Recruitment and retention is the biggest internal challenge for 42 per cent, closely followed by domestic sales growth (32 per cent). Other less prevalent challenges include fundraising (eight per cent), product development (seven per cent) and International sales growth (six per cent). The survey, which has been held for 16 years, seeks to identify which roadblocks are most holding back growth at UK small and medium-sized businesses. While a third of respondents have a turnover of less than £5m, businesses turning over more than £50m accounted for 25 per cent of answers. In asking business leaders about another seminal problem, that of late payment, the FDs" Satisfaction Survey revealed 72 per cent of businesses are having to wait more than 30 days to get paid. This forces 45 per cent of them rely on an overdraft as their primary cash contingency plan followed by invoice discounting (15 per cent) and director's loans (ten per cent). We're still looking for respondents to our survey, so if you're interested then please give us 10-15 minutes of your time to complete it
HERE
. The final results of the survey, at which point 2,500 businesses are predicted to have filled it out, will be revealed at the
Real Business FD Surgery event on 1 May at the Royal College of Physicians in London
. The event will feature a number of panel sessions looking at important issues such as how technology is shaking up the finance function, revolutionising the approach to sales and marketing and a cost-effective take on protecting businesses from cyber attacks.
Tickets can be secured by visiting the event website
, giving UK FDs, CFOs and finance professionals the opportunity to hear from former Superdry CFO Chas Howes on where it all went wrong for the ?750m clothing brand and YO! Sushi CFO Edward Kingston on how to make the move into private equity.
We've brought together all of the most important FDs' Satisfaction Survey findings together in a helpful infographic below.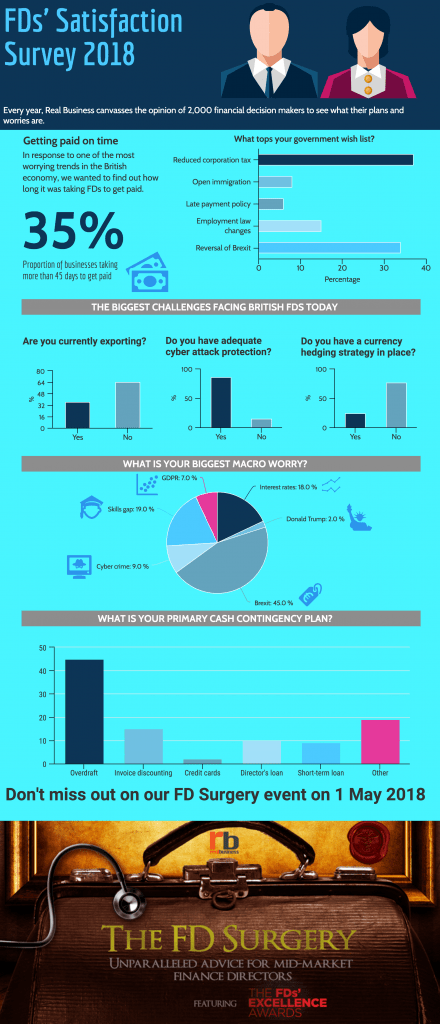 Share this story