Touted as the "world's largest celebration of veterans in second careers," the Ex-forces in Business Awards had its Scottish debut on December 3 in Glasgow.
The event made clear its distinction from its English counterpart with a Scottish pipe band that welcomed the (mostly) tartan glad guests to the ceremony.
However, the national pride on show revealed something deeper about Scottish culture, namely its deep respect for the military institution.
Veteran culture in Scotland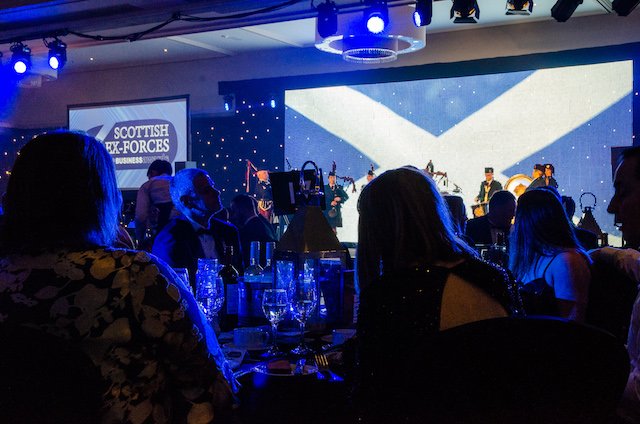 Scotland has a long-established?relationship with its military, with a significant part of the population being associated with the armed forces in some way.
Statistics from Citizens Advice Scotland suggest that as many as?20%?of Scots are part of the Armed Forces Community, whether serving, a veteran or related to a serving member.
Government statistics put the number of military veterans in the country at 237,000" in 2017 a number that's undoubtedly risen over the past two years.
These facts give us a snapshot of the significance of the veteran community in Scotland, as well as the importance of commending those who have forged successful careers after service.
The purpose of the awards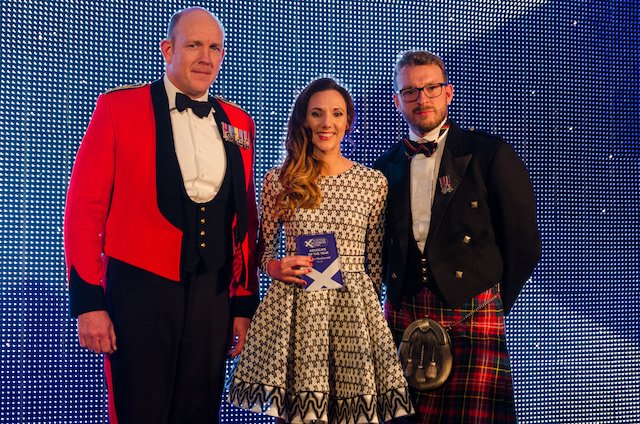 Like its English counterpart, the Scottish Ex-forces in Business Awards was launched to highlight the skill sets veterans have developed through military service including a high work ethic, flexibility, leadership and teamwork skills.
A 'grey area' for veterans
These are all highly valued attributes private sector employers look for in candidates. However, misconceptions among hiring teams relating to the commercial applicability of veteran candidates, (thousands of whom leave the forces each year), combined with a lack of exposure around those that succeed, has created something of a grey area for veterans looking for second careers.
Awards such as the one held on December 3 provide the inspiration, as well as the contacts veterans need to manage this transition successfully. To decide upon the night's winners, a panel of 20 high profile veterans, (including the Scottish Veterans Commissioner Charlie Wallace), presided over 250 nominations to decide the winner of each of the 14 categories.
Here they are:
The 2019 Winners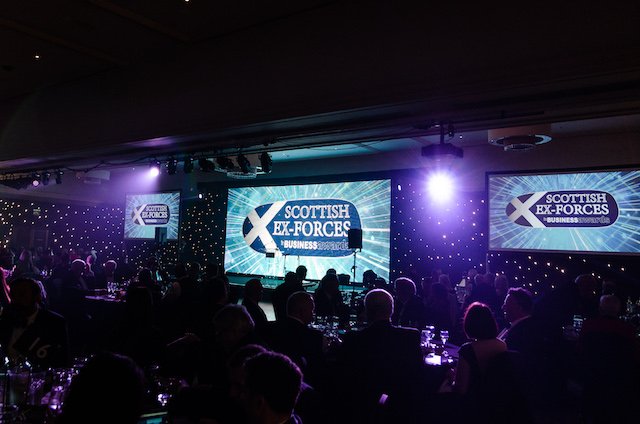 ADVOCATE OF THE YEAR
Louise MacDonald, Wood
The judges were particularly impressed by the extent of advocacy that Louise has not only pushed for veterans at Wood, but which she has also received from others in her organisation and beyond. It's clear that her impact is wide ranging and profound, and despite having no personal military background she has led the way in defence engagement with passion and dedication. The judges also highly commended Michael Hashim of Bruce Stevenson, who they see as a leader of the future having already made a big impact in a short period of time.
ENGINEERING EXCELLENCE AWARD
Ian Smith, Gray and Adams
The judges found Ian's story of perseverance to be truly inspiring. The skills and values he acquired during his army service have genuinely shaped his approach to work and life, helping him overcome some notable challenges. To balance a full-time job and family life with further education in his 40s and again in his 50s demonstrates bravery and inner steel and his successes have come as a result of this hard work. The judges also highly commended Ian Hodge of Peak Scientific who has carved out a strong career in the engineering field while employing a number of ex-forces candidates.
ENTREPRENEUR OF THE YEAR
Gavin Neate, Neatebox
The judges felt Gavin's achievements really stood out for their outstanding innovation and huge impact. His services ethic shines through in his business and the work he has done to grow the company, and he exhibits a real entrepreneurial flair. Gavin has made significant personal sacrifice to fund the business, and has taken the best of his RAF background to create a truly disruptive company with global potential. The judges also highly commended Tom Morton of Safe Shores Group who they identified as a clear innovator with great social impact as well as business impact.
INNOVATOR OF THE YEAR
Chris Newlands, Spelfie and Tripsology
Having successfully embarked on a career as a financial advisor after leaving the Royal Navy, the judges admired Chris's ambition and courage to launch a new parallel career as an entrepreneur. They commended his innovation and disruptive spirit through both of his businesses, as well as his desire to raise awareness of social issues such as air pollution. The judges praised Chris for creating interesting and unique concepts and then developing viable commercial models to turn them into successful businesses.
INSPIRATION OF THE YEAR
Jamieson Rogers, GlaxoSmithKline
The judges were won over by Jamieson's very inspirational story of overcoming adversity to get into engineering. They noted that he didn?t just succeed against the odds once, but overcame setbacks multiple times to reach where he has. His perseverance in the face of considerable adversity is a key attribute he gained during his military service and which he has used to carve out a successful second career and achieve terrific results for GlaxoSmithKline.
LIFETIME ACHIEVEMENT AWARD
David Dent, Parexel International
The judges were full of admiration for the longevity of David's commitments and achievements across military service, business and charity throughout his career, and the truly international nature of his impact. Having delivered life and limb saving interventions for soldiers and civilians alike in his career, David has not let his own significant injury in the line of duty hold him back from his achievements in business and sport as well as his considerable efforts to support veterans charities.
MILITARY VALUES IN BUSINESS AWARD
Simon Watkins, University of St Andrews
Simon's incredible leadership and response to not one but two major fires at the University wowed the judges. He was prepared to remain in post without a break for 48 hours to ensure the job was completed, using skills formed through his years in the RAF. He has helped to secure significant additions to the maintenance budget and to install innovative new systems, while his leadership has saved lives and implemented changes that will enable a safer and more organised response to any future incidents.
NEW SERVICE LEAVER OF THE YEAR
Bryan Flannagan, City of Glasgow College
The judges applauded the incredible range of achievements in the two years since Bryan left the Royal Navy. In everything that Bryan has turned his hand to he has made a tremendous impact and demonstrated an innovative approach. Everything he does is used to inspire service leavers in their second careers and to help bridge the gap between the military and the commercial sector. The judges also highly commended Nicholas Hayes, whose dedication to supporting veterans resulted in more than 15 service leavers joining Openreach in just 18 months.
OUTSTANDING ACHIEVER OF THE YEAR
Graham Allison, Amazon
Graham was chosen by the judges for the sheer scale of his achievements over the last couple of years, which have enabled him to make it to a director-level position in Amazon at the age of just 35, a feat that is even more remarkable given he spent over five years in the Royal Navy. Graham has also conducted more than 100 interviews with a focus on high-potential military candidates. The judges also highly commended David Gillespie of Collins Aerospace who as well as forging a successful second career has also mentored young people for a career in STEM.
RESERVIST OF THE YEAR
Amanda Scott, FDM Group
Amanda's impact is clear from the outstanding commendations she has received from senior leaders at FDM Group. She demonstrates great leadership, living by military values both in her civilian job and in the army reserves. She has applied these values to her day job at FDM with great effect, gaining the respect and admiration of her colleagues. Amanda has also inspired others to join the Reserves through being a positive role model and a beacon of everything that is great about the modern reservist.
RISING STAR OF THE YEAR
Gillian Dowds, Fujitsu
In order to succeed in her post service career Gillian has been prepared to adjust, initially taking a more junior role in order to enhance her education credentials and to develop her skills and experience – ultimately leading to rapid progression. To successfully complete an MBA whilst holding down a full-time job is hugely impressive. At Fujitsu she has managed a major and complex project, through which she has received great commendations from both colleagues and MoD representatives.
ROLE MODEL OF THE YEAR
Darren Taylor, Siemens Gamesa Renewable Energy
Everything that Darren has achieved in his post-military career has made him a genuine role model. He has used his skills and successes to set an amazing example to other service leavers and has never stopped reaching out and guiding these people. He has also inspired the next generation, engaging with local schools as part of the Scottish Government's Developing Young Workforce initiative, promoting both his current industry and the benefits of pursuing a career in the military.
SERVICE LEAVER OF THE YEAR
Emma Chesney, Pasquill
Since medical discharge in 2010, Emma has carved out a successful second career by applying the organisational and people management skills that she gained in the RAF. Her quick progression and consistent promotions at Pasquill are testament not only to her hard work but to the strong results she has driven for the business. The work she has done to transform workplace culture has resulted in a can-do attitude and greater employee engagement as well as improvements in sales, profitability and productivity.
TEAM LEADER OF THE YEAR
Jemima Estabrook, FDM Group
The judges were impressed by Jemima's team leadership skills and the way in which she has honed them from her military experience training her troops. She is constantly looking to improve and develop her team, while also advancing her own pursuit of personal development by seeking to learn about new technologies or processes. The judges also highly commended Karis Hynd of Royal Bank of Scotland for the high regard and respect she receives from her team and her strong leadership capabilities.