Many of us are only too aware of the social stigmas facing military veterans when they leave service. They include unfair assumptions such as they're ill-prepared for 'real-life' and for 'real work' in the private sector.
The British Ex-forces in Business Awards is?one of the few awards ceremonies out there that's doing its bit to dispell these misinformed views. Instead, they're highlighting the skill-sets of ex-military employees, including their applicability to high-level roles in the business world.
The awards ceremony comes to Scotland
Shining a light on their resourcefulness, ability to engage in teamwork, and strong leadership skills that many acquire through military service, the awards are going north of the border for the first time this year to commend the work of Scottish veterans who are thriving in the business sector.
The aim of the Scottish arm of the awards is the same as its London contingent, it's highlighting the bright and 'business-ready' talent pool that military leavers are part of.
[article id="133474″ title="The British Ex-forces in Business Awards 2020″]
After two successful awards ceremonies in London, (that saw 900 business and military leaders come together, and as much as £50,000 raised for military charities), the first-ever Scottish Ex-Forces in Business Awards, will take place in Glasgow this year.
"These awards remind our society of the fantastic talent that exists amongst our veterans community. I hope it will nudge more employers into realising the benefits of employing a veteran" Charlie Wallace, the Scottish Veterans Commissioner
The finalists were chosen from a total of 250 nominations by a judging panel of military veterans including Charlie Wallace, the Scottish Veterans Commissioner, David Watt, Executive Director of IoD Scotland, and Tim Allan, President of the Scottish Chambers of Commerce.
The 2019 finalists revealed: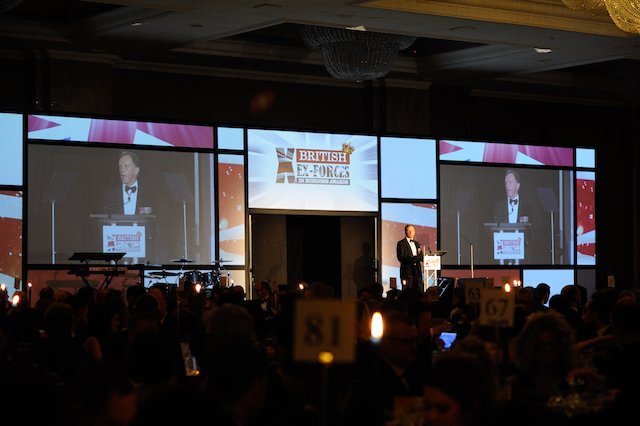 Here are the finalists they chose…
ADVOCATE OF THE YEAR
Sue Bomphray, Barclays
Louise MacDonald, Wood
Alice Andrews, KPMG
Laura Mazzara, Standard Life Assurance
Michael Hashim, Bruce Stevenson
ENGINEERING EXCELLENCE AWARD
Kirk Mayes, Ross-shire Engineering
Simon Wilderspin, Diageo
Michael Allan, Stena Drilling
Ian Hodge, Peak Scientific
Robert Cumming, Great Wall Motors
Derek Downie, Halliburton
Ian Smith, Gray and Adams
ENTREPRENEUR OF THE YEAR
Kieran Hope, Air Control Entech
Gavin Neate, Neatebox
Lawrence Morison, Business Coffee Solutions
John Jones, SEM Energy
Tom Morton, Safe Shores Group
Terry Mallin, Bonfire Recruitment
INNOVATOR OF THE YEAR
Alan Cheater, Babcock International
Mervyn Robb, Colliers International UK
Mark Laird, Lairds of Troon
Chris Newlands, Spelfie and Tripsology
David Alldritt, HighNet
INSPIRATION OF THE YEAR
Jamieson Rogers, GlaxoSmithKline
Michael Howie, MH Access
Dean Stott, PAH Scotland
Philip Forster, The Football Pools
Paul Dixon, RBS
Andy Stephenson, Doosan Babcock
Sarah Grayston, Wood
Mark Birkby, Trident Maritime Systems
LIFETIME ACHIEVEMENT AWARD
Ian MacEachern, Aberystwyth University
Mark Hartree, Leonardo
Ian Lennock, Midlothian Council
David Dent, Parexel International
Brian Howieson, Edinburgh Napier University
Jim Millar, DC Thomson
MILITARY VALUES IN BUSINESS AWARD
David Adamson, William Grant & Sons
Sandy Campbell, FDM Group
Calum OBrien, Stork
Simon Watkins, University of St Andrews
Andrew Warren, Wood
Helen Knights, Barclays
Mike Thomson, Cairn Housing Association
Iain Wynn, Baker Hughes
Scott Dillon, Arnold Clark
NEW SERVICE LEAVER OF THE YEAR
Ian Pauley, Barclays
Daniel McInnes, FDM Group
Jonathan Hankin, Menzies Aviation
Bryan Flannagan, City of Glasgow College
Nicholas Hayes, Openreach
Ruaridh McIntyre, Nordea
Robbie Ower, FDM Group
Mark Anderson, Dover Fueling Solutions
OUTSTANDING ACHIEVER OF THE YEAR
Stuart Williams, Doosan Babcock
Nick McCann, Wood
Ewan Campbell, Capita
Martyn Knights, BP
David Gillespie, Collins Aerospace
Andy Cruickshank, SIG
Allan Cullen, Vix Technology
Graham Allison, Amazon
Euan Fenelon, Natural Power
RESERVIST OF THE YEAR
Andrew Cross, Aviva
Lindsay Stewart, Barclays
Amanda Scott, FDM Group
Elaine Falconer, Wood
Thomas Stewart, Forbo Flooring
Gordon McLellan, Barclays
RISING STAR OF THE YEAR
Gillian Dowds, Fujitsu
Andy McCreadie, RBS
Marc Gault, Star Refrigeration
Niall Raeper, Wood
Alex Bird, Fieldcore GE
Chris Douglas, GAC UK
Anthony Campbell, Openreach
Neil Taylor, Barclays Wealth
ROLE MODEL OF THE YEAR
Douglas Bates, Babcock International
Carl Tucker, University of Edinburgh
Tim Worth, Serimax
Darren Taylor, Siemens Gamesa Renewable Energy
Michael Philliben, World Wide Technology
Dale Clarke, BT
Annie Wallom, University of Stirling
David Sewell, Diageo
SERVICE LEAVER OF THE YEAR
Emma Chesney, Pasquill
James Griffin, OES Asset Integrity Management
Scott Campbell, BP
Ian Horne, Lloyd's Register
Trevor Hepburn, Kuwait Oil Company
Gary McCann, Peak Scientific
Lowellyne James, Sustainability & CSR Insights
Lee Williamson, Williamson Wind Service
Steven Peebles, Sulzer
Thomas Wallace, J&D Pierce
TEAM LEADER OF THE YEAR
Jemima Estabrook, FDM Group
Jonathan Anslow, Leonardo
Janette Graham, 2 Sisters Food Group
Ross Vallance, FES Support Services
Dennis Morris, RBS
Graeme Buckley, ADT Fire & Security
Mark Handford, Baker Hughes
Cameron Ross, Openreach
Karis Hynd, RBS