Mean Girls, that zeitgeist film about exclusionary social groups in an American high school, has many lessons to offer the business world.
But it's not only about appropriating some of the 2004 film's classic jokes and using them at work, such as 'mistaking' a fellow employee for actor Danny DeVito in the office bathroom. (See below):
(Please note that modern offices should have private restrooms if they're mixed gender*).
Small business owners can look at the film's representation of 'clique culture' and turn to what's going on in their own workplaces.
Here are the questions they should be asking themselves…
Are there cliques in your business?
Is your office social scene dominated by certain groups" (And no, they're not always 'girls' despite what the film implies!) Do these groups leave other employees out?
What does a clique look like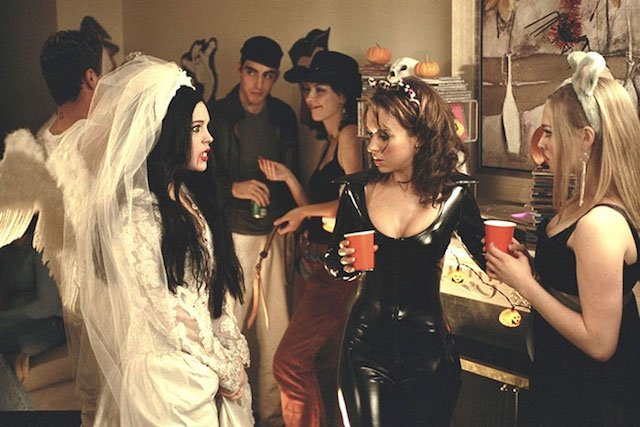 Take the Mean Girls Halloween scene for example, where the protagonist Cady Heron, (Lindsay Lohan), arrives at the high school Halloween party dressed as the 'Bride of Frankenstein.'
She sees the other girls dressed provocatively, and quickly realises she 'didn't get the memo', about the dress code, feeling left out and excluded as a result.
" That's exactly how staff can feel if there is a predominant clique in the office that fails to include them in the social processes of a working day.
Cliques are bad for business
The repercussions of allowing cliques to reign over offices include distracted staff, lack of work productivity, and a possible high staff turnover of those who feel excluded.
So, let's look at how office cliques manifest in an office, including why they're so damaging to the social and economic health of a business.
1. Excluding others and breeding a toxic culture
While it's often at the top of HR lists to create a social office atmosphere where employees enjoy socialising as well as working together, office cliques can create social groups that exclude others and make them feel dissatisfied, demotivated and left out.
"In the case of my business, the clique was made-up of two employees who spent most of the time drinking coffee, smoking and talking (with little work done) but the situation improved when one of them was let go after a performance review."
Cliques can create distractions among the excluded groups and foster low office morale. In the end, clique culture creates a work environment where staff might over-focus on getting that golden ticket of group membership over actually working, or eventually leave the company due to the toxic culture.
2. Allowing cliques to fester and grow
Office cliques are like weeds. If they're left ?" they'll grow and get even more imbedded in office culture.
While it's important not to demonise staff for having preferred social groups, if things become exclusionary in nature, employers should step in and resolve it. This includes keeping a watchful (but non-domineering) eye on workplace socialising and having private conversations with staff who might be feeling excluded.
"The clique culture creates tension and can drive workers out of the jobs they love. Our approach is to build connections and forge common ground through monthly team-building and off-site activities. Through this, we create rapport and stronger relationships through shared experiences."
Employers can assign members of a clique to group work with staff they don't usually socialise with. This can encourage bonding and soften the edges of an office clique.
Encouraging the organisation of business social events, or 'sports days' in the summer where mixed group participation is encouraged is also a good idea. (Think 'mixed group' quizzes at the annual Christmas party too*).
3. Enabling groups to engage in cyber-bullying
Social media is an all-encompassing tool, both in social and work life.
To prevent the chances of office cliques overly-engaging in social media and in a manner that could make other colleagues feel excluded or even bullied, (such as uploading videos of other staff members 'for a joke' on social platforms), employers should set out company guidelines on social media use at work when onboarding staff and reiterate the terms periodically throughout the working year.
This could be done via 'lunch and learns' or by holding casual cross-team meetings and announcements on the subject.
Piers Moore Ede, Head of Digital, Company Debt
"While it's human nature to associate with peers who possess comparable traits, cliques are generally counterproductive and stand in the way of a unified, inclusive vision. As such we gently try to discourage them."
4. Breeding unproductive uniformity
Employers should discourage any behaviour that encourages "same mindedness" which isn't great for idea innovation.
Unified visions are one thing, but non-creative ones are another.
In smaller businesses, staff need to hold their own and come up with dynamic ideas to drive a business forward. Being afraid to be a leader, creative or outspoken due to the pressures of retaining a spot in an office clique cannot and should not be tolerated by employers or by staff who want to progress.