The Arsenal Innovation Lab runs in conjunction with innovation specialist L Marks and the club's senior leaders and will span a period of ten weeks.
There were 250 applications for the Arsenal Innovation Lab, following its launch in September 2017, from which 22 companies were chosen to participate in a pitch day in November. Now, just six businesses remain.
The companies taking part in the Arsenal Innovation Lab will be able to test products and services during the ten-week period, which will culminate with the club's senior team deciding the innovative ideas they want to invest in and develop further.
---
Innovation within a company can come in many forms and, for Alton Towers, its 2018 business agenda includes bringing a wooden roller coaster called Wicker Man to life in conjunction with fire.
---
Vinai Venkatesham, chief commercial officer at Arsenal, said: ?We are really looking forward to working with these six exciting startups over the next ten weeks and hopefully beyond. Innovation has always been at the heart of the club since its formation in 1886.
?Our aim is to create better experiences for our supporters all around the world, from retail experiences to digital content. We are looking forward to taking this next step in the Arsenal Innovation Lab and developing these pioneering ideas to take the club forward.
L Marks is well-placed for its collaboration with Arsenal. The firm has run similar accelerator programmes with the likes of John Lewis, Waitrose and BMW.
The six companies chosen for the Arsenal Innovation Lab include:
(1) Peak ?A 2014-launched, Manchester-based data analytics company out to support Arsenal growth with data and artificial intelligence.
(2) BotNation This French business develops AI-rich chatbots for communication apps and websites, something it plans to deliver for Arsenal supporters. Currently used in 53 countries by 700 firms.
(3) WoraPay The London mobile ordering business plans to streamline match days for Arsenal fans, enabling them to have food delivered to them, following an order and payment via their phone from their seats.
(4) I like that ?Another London-based company, I like that promises on-demand retail support so customers can buy directly from media and publisher websites without visiting the Arsenal store online.
(5) KonnecTo Straight out of Tel Aviv, this AI and data analysis platform will inform Arsenal how supporters are engaging with them, providing insights on how to make the most of the interactions
(6) Aireal Representing the US, this Dallas-based firm will offer augmented reality interactions to fans globally, allowing them to digitally interact with players and club trophies.
"We have selected six fantastic companies developing some truly innovative products, ranging from AI to smart payments and augmented reality," said L Marks chairman Stuart Marks.
"I'm very excited to see what each team will achieve working closely with Arsenal over the next ten weeks and what these developments will mean for the future of the sporting sector."
---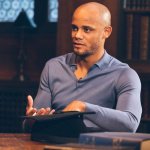 Manchester City captain earns MBA, claiming to be an entrepreneur at the core
Leader of Manchester City Vincent Kompany has achieved a personal ambition by obtaining a Master of Business Administration (MBA) degree, comparing management of personal finances to running a business.