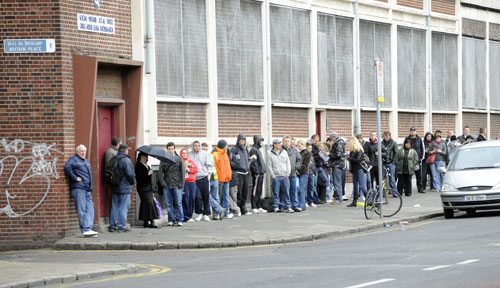 The Work Foundation?s new report on the number of 16-24-year-olds not in education, work or training (NEET) made for some severally grim reading.?
It revealed the UK blackspots where the highest levels of youth disengagement exist, including Grimsby, Doncaster, Warrington and Wigan.? These towns were once part of the great Industrial North, but have had the life sucked out of them, leaving a lot of young people with no hope and no future.? I saw this first hand while filming?
Secret Millionaire
?on the Longford Estate in Warrington. Although there was a great spirit in the town, prospects for many were bleak.? But the problem is not just confined to the North. High NEET rates persist in Barnet, Camden, Enfield, Hackney, Haringey, Islington and Westminster. Those places are right on my doorstep. I make no apologies for writing about this subject again. We are sitting on a skills time bomb that will explode if we don?t increase the availability and take up of job-related training and qualifications. As an employer of skilled tradespeople (and a skilled tradesperson myself), it makes me incredibly frustrated that we are doing nowhere near enough to ensure industries like mine have a steady flow of new entrants. What would happen if the pool of new skilled employees dried up? In the plumbing business, I?m convinced we?d be overrun by foreign workers with minimal skills taking the jobs and an explosion of cowboy tradesmen operating across the length and breadth of the UK. And that?s just plumbing. Multiply that across every other practical-skills related sector and the future is looking pretty depressing.? There are nearly one million 16-24-year-olds on the dole. Without skilled and motivated young people, this country will be in real trouble. As the lyrics go, "The children are our future".
Charlie Mullins launched?Pimlico Plumbers?in 1979?with just a bag of tools and an old van bought at auction. The company now has more than 133 professional plumbers, 35 support staff and a ?15m turnover.
Share this story