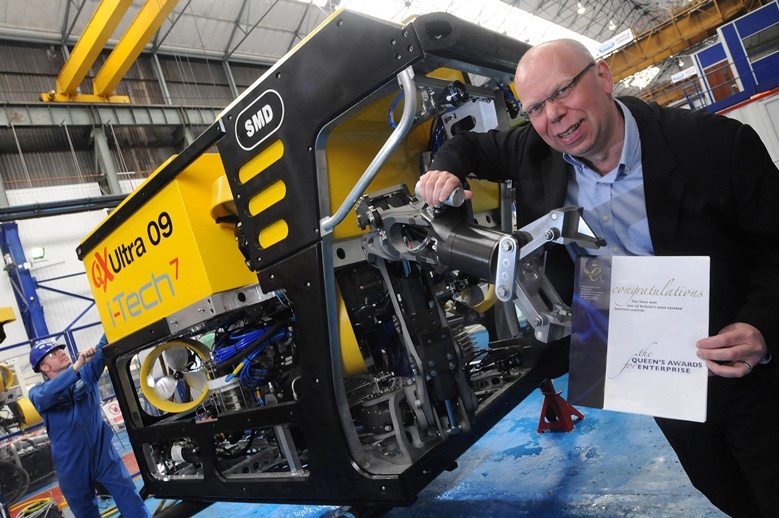 Soil Machine Dynamics (SMD) was created by five professors from Newcastle University in the 1970s to develop technology for burying underwater pipelines and cables. Today the company designs and makes remotely operated vehicles and underwater propulsion and control products for use in hazardous environments such as the Arctic Ocean.?
After a steady start, SMD rode the technology boom and bust of the late 1990s. The firm benefited from the rush to lay cables for the internet, but its growth slowed instantly when the dot-com crash came in 2000. Its then MD and long-term owner, John Reece, responded by shifting his focus to the oil and gas industry and, in doing so, managed to grow the business into a ?37m-turnover concern employing 100 people by 2007. But Reece saw that he would need outside help to take SMD to the next level, according to the firm?s?current chief executive, Andrew Hodgson. So, when private equity house Inflexion offered to buy 60 per cent of the business, he accepted. Hodgson was appointed in 2008 with the mission of tripling SMD?s annual revenue to ?120m within five years. ?You?d think that buying a capital goods manufacturer at the start of a financial crisis is not?the wisest of business decisions,? he says. ?But?it was a tactical decision and I just had to look?at our major markets in the world and how customers used our products to find growth.? Inflexion?s gamble has paid off handsomely: SMD is?expected to turn over ?140m this year, beating the private equity firm?s target by ?20m a?year early. The company also now employs 500 people and owns four factories in north-east England, as well as operating service and support units in Brazil, Singapore and the US. Much of this has been achieved by establishing a?new management structure that has placed far more emphasis on chasing opportunities. Hodgson explains: ?While the company had a range of remotely operated vehicles and offered bespoke services, no one had looked at other uses for?our equipment, such as deep-sea mining and the production of offshore renewable energy.?? The company has developed five ?business streams?: remotely operated vehicles, trenching, mining, renewable energy and nuclear power. Each?stream is led by a manager who reports directly to Hodgson. ?When I joined, the existing managers didn?t believe in the new structure, so we had to spend a lot of time with them, looking at each opportunity, to get their support,? he recalls.?
New markets
SMD?s growth under the new structure has been firmly export led. Eighty-one per cent of its products are exported, compared with 29 per cent in 2008. The largest markets are Japan, China and Brazil, where the company has gone from nowhere to number one in its field within four years. ?Brazil is the biggest story in oil and gas today, so it was vital for us to gain penetration there,? Hodgson says. The company has focused on opening regional offices in new markets, as he explains: ?When Inflexion acquired the business, we had agency agreements with plenty of people. But this meant that we were hostages to fortune ? we were too reliant on those agents to spot quite infrequent opportunities. Having a local presence on the ground has since helped us to win business.? By contrast, SMD continues to manufacture all its products in the UK. ?Because of the intellect in our products, and our products? speed to market, we need to keep our engineering and manufacturing capabilities close together,? Hodgson says. SMD?s bespoke products help to protect pipelines and cables by, for example, burying them under the seabed. When he arrived, Hodgson assumed that this specialist market was already ?pretty mature?. But it has continued to grow, as the world becomes more dependent on subsea fibre-optic infrastructure. Large economies such as Japan have seen the advantages of laying secondary cables as part of a back-up system, creating more demand for SMD?s marine robots.? ?The underwater IT infrastructure is more than 20 years old and has become critical for the world economy. Maintaining it correctly is a priority,? he says.? The biggest future growth area for SMD is offshore wind, as Hodgson explains: ?All of the wind farms have cables that need to be protected. It?s a hugely successful piece of work for us.? Indeed, in July business secretary Vince Cable, and CBI director-general John Cridland visited SMD to learn about the renewable energy industry in north-east England. With 30 per cent of its new business coming from offshore renewables, SMD has become a key player in the region.?
People power
Despite these opportunities, the financial crisis has?affected SMD?s customers, most of which used asset?finance before the financial crisis in 2008. ?[Access to that] just died overnight,? Hodgson says. ?That?s the biggest risk we?ve had to live with. So we have trained our staff to find customers with strong balance sheets, which helps them to access finance more easily.?? But SMD?s main challenge is not a financial one. What?s truly holding the business back, according to?Hodgson, is a shortage of qualified engineers. ?We?re?constrained by the number of skilled people we can find. Give me a bunch of skilled people and I?ll create a heap more value. There is plenty more that we could do with them. There is a real gap in the market and there?s a lot of demand for our kind of people. This is my number-one priority.? In order to recruit experienced?engineers, the?company has had to take advantage of the failure of other?businesses, while it has established new?graduate?and apprenticeship schemes. ?But that isn?t enough,? Hodgson stresses. ?What we need to do, as a nation, is persuade bright young people coming out of schools that engineering and manufacturing are great careers. Some of that has been lost because, for 25 years, there?has been a mantra that manufacturing is on its last legs and dying. We?ve got a hell of a lot to turn around there.?
This article was first published in the November edition of Business Voice, the CBI's magazine.
Share this story