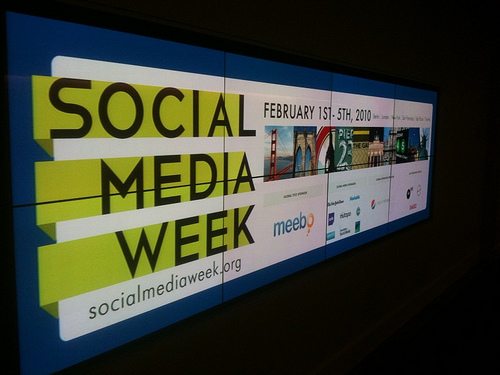 We're at Adam Street Members' Club for the Like Minds Social Commerce workshop, part of Social Media Week 2011. We'll be updating this story throughout the session, so keep refreshing the page!
The room is totally full, and we're waiting for the event to start. Looks like we've got a good line-up of speakers for the workshop:
Ian Jindal, Mark Ellis, Andrew Gerrard, Gemma Went, James Poulter,Markus Karlsson, Molly Flatt, Jamie Riddell.
14.10: And we're ready to go. We'll be updating this story and also tweeting – follow us here: @Real_Business.
14.15: Ian Jindal's session:
"The one takeaway: customers are already social and cross-channel, so the challenge isn't to educate the customer, but to respond to it and make money from it." Interesting stats: 73 per cent of the UK is online (93 per cent for the top ten per cent of earners – 3.5x higher than the lowest ten per cent). 83 per cent of houses with children have internet access. 44 per cent have a social media profile. "It isn't 'ooh lots of people are online', but 'they're already online and talking to each other, so why are retail websites part of the conversation'!" When asked what media people would miss most if taken away, TV remains the most important media, across all ages. Social media is now focused on mobile phones and the mobility that it offers. Computers aren't as important anymore. Social networks have become more important in terms of reach to customers than even search engines. "Social media is now more important to retailers than email. Think about that: the home of mighty spam (aka brand communication). How many times do you get sent stuff? It's every week, without fail, because it's a Friday, I must need an offer. It's overwhelming. This is why open rates are falling. We're moving away from marketing email, and towards a medium where you don't have control, social media." Mobile users are really interesting – not only are they a very large number of people, but they're much more active. It's about being sociable and social. Have a look at this:
http://twitter.com/etail/tweetailers
– list of around 160 tweeting retailers. Good for best-practive examples. Facebook Places – where does it get interesting? From a CRM perspective, you can not only do an individual deal, but you can set up a friend deal. For example, with Yo! Sushi, if you check in with a friend, you each get five plates free. Yo! Sushi gets all the extra friendship data (and all your profile data) – permission to get rich CRM data. Social retailing is hands-on: individual, real people speaking with customers. Social retailing needs to fight for resource within thinly-staffed teams. Challenges to skills, rolls, notions of brand, engagement, etc. "The old days of a "purchasing funnel" are over. It was always rubbish, and its now about modality and context: place, price, product info, payment, promotion, point of sale." "Digital shoplifting": when customers use their mobiles to compare a product's price. For example, Auto Trader's app gets about 900,000 page views per month, 45 per cent of which are from forecourts. People are using mobile devices to get a bargain. Social retailing has been unlocked by mobility – gives you unlimited power, unlimited access. Ian Jindal is all done with his presentation. Really interesting!
14.45: Mark Ellis's session begins. He is MD of Syzygy.
Definition of social commerce: selling with social media. The best example is from IBM: digital word-of-mouth, applied to e-commerce. Allowing purchasing decisions to be shared before, during and after. It's only in the last few years that retailers have come to recognise social ecommerce – people don't sit behind computers on their own to shop. It's proven that social commerce increases traffic, sales (conversion) and average order value. Plus, as a retailer, you haven't paid for the customer, it was done by recommendation from a friend. Plus customers are more likely to buy products following a friend's recommendation. You need to try and create an army of brand ambassadors ("Like" on Facebook). "People are more valuable owning and using your product than thinking about buying it." Two strategies being used in social commerce: (1) bringing social media onto your e-commerce platform – helping people connect where they buy; (2) e-commerce on social media platforms (ie you bring your shop to Facebook) – helping people buy where they connect. Six that help you boost social commerce: (1) ratings and reviews; (2) recommendations and referrals; (3) forums and communities; (4) social shopping; (5) group buying; (6) purchase sharing (like Blippy). Why now? Social media has now reached the mainstream. Facebook is as much part of daily dialogue as anywhere else. This is where customers are now — follow the customers! Social commerce isn't about technology, it's about people influencing people. It's a social happening. Six dimensions to social commerce success:
Scarcity: Less is more. The rarer something is, the greater its social value. (Limited editions, quick competitions, exclusivity, etc, are good!)
Affinity: Shop with like-minded people. (Such as Levi's Friends Store, shop in realtime with your friends, connect to Facebook. Or on iTunes, the 160m customers can share together via Ping.)
Reciprocity: Pay back favours. (Sign up, get your free coupon, forward it to friends, get a present if your friends use the vouchers.)
Popularity: Follow the crowd. (Team up with big stores like Amazon, Facebook. See what other people similar to you have bought, etc.)
Authority: Follow the leader. (Position yourself as a curator, an expert.)
Consistency: One step at a time. (Deliver on your promise in the social commerce space consistently. Research shows that if someone "Likes" your product on Facebook, they're 65 per cent more likely to buy your product.)
Continue reading on page two… (button below)
Share this story