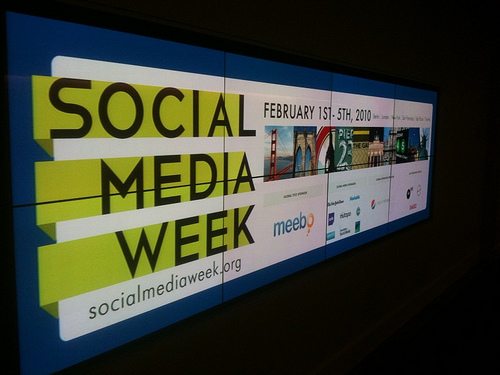 Continues from page one…
Seven key pointers for 2011:
Experiment – start selling on social platforms
Add mobile (sharing) into your social mix
Implement social plug-ins (eg Facebook "Like)
Up-sell with reviews and recommendations
Integrate "chat" so friends can shop together
Make your website the social flagship (your ecommerce sites have to be social platforms in themselves)
Bring your offline brand experience online
And he's done! That was another really great presentation.
15.20: Next speaker is James Poulter of Lexis PR.
James' presentation is about how he's started to rent out his life (Spotify, LoveFilm, Streetcar, etc.) — a new kind of consumerism: shop and tell. This is driving a new type of economy – shaped by recommendations. There are three experiences for customers with this:
Social intelligence: customers are using their friends' intelligent purchasing decisions. It's about learning to leverage this.
Social capital: not a new one, but it's the trading of things that make you feel good, like Foursquare, a YouTube video, some content. "We want to pass stuff around because that's our way to recommend stuff."
Social buying: group buying through Groupon.
We think of it as social commerce, but consumers think of it as just chatting with friends and interacting. What are consumers up to? They want to know what their friends are into, what they like. Share things? It's about being cool, makes them look and feel good. Every good recommendation has good narration – there's a story behind it. How do people understand the world? Through story. If you're trying to fuel recommendations, give your customers a story, a narrative. Why do we bother doing it? We build an association for ourselves. We've moved away from a time when we define ourselves by what we walk down the street (stuff just gets delivered to you now). These things have changed us – you need to give people stuff that makes them feel or look good. "This is who I am, this is what I'm about" — this is what every Facebook "Like" button is about. Give them something new to add to their identity. People identify with all their stuff, you can't forget that people sometimes really love the stuff they like. It builds up their identity.
16.10: Okay! After a short coffee break, we're back on with Jussi Wacklin, digital marketing director at Nokia.
Jussi will be talking to us about mobile social commerce ("not propaganda from Nokia though!"). We're still only in the beginning of all of this – last year, in the third quarter, the total value of ecommerce in the US was five per cent of overall retail sector value. What is mobile commerce? It's any commercial transaction that involves the use of mobile devices in some part of the process. Key elements:
Stores
Auctions
Marketing Advertising
Discovery
Mobile ticketing
Coupons, loyalty cards
Payments
Location services
Info services
Banking
Location services is where mobiles, mobility, can bring a lot of value. If you do this correctly, you can really do amazing things. Social commerce: what is it? Commercial transactions where people are involved in terms of recommending, referring, etc.
Ratings
Reviews
Referrals
Recommendations
Shared shopping lists
Social marketplace
Mobile social commerce is defined by mobile spaces, commerce spaces, social spaces. With mobile, assuming the user is willing, we're able to know where the user is. We can even build up certain clusters (what neighbourhoods do they live in? where do they travel? where do they work/live?). One great thing about that is that instead of just doing digital commerce, how can we take that and combine it with the commerce/social spaces? Commerce is all about understanding users buying preferences. And social spaces is about what brands they interact with, how they do so, and who they're friends with. How do you become a millionaire? Take the three ecosystems and build them together. "Whenever you find something interesting, with a mobile device, you can send it to your friends or even yourself!"
(It's a very slide-intensive presentation… hard to live-blog! Apologies.)
Several ideas in the presentation: a friends affiliate network, a coupons affiliate network — all based on mobile location. How can you reward people for recommending your business? Shops in social sites – a lot of positive energy, etc. But the question is, how much would your users appreciate having a social commerce shop in a social network? I'm not sure about this. We've done this with Nokia, but I'm still interested to see how many people will actually use it. The value will be ratings and reviews, but I'm still quite nervous. Does social commerce means taking your shop to a social network? Or is it something else? Food for thought. All done. Interesting to hear Nokia's approach to mobile – and the doubts around social commerce.
16.45: Next up is Markus Karlsson, CEO of Comrz.
Keep reading on page three! (button below)
Share this story