In the world of modern business, you'll find a lot of people claiming to be 'social entrepreneurs'. But how many really care about fixing a deeply rooted societal problem over a desire for profit?
Fighting homelessness through business, how do you do it?
Homelessness feels like one of society's last big issue to fix. The factors are numerous and include poverty, the complex issue of dealing with governments, as well as substance abuse and mental health. All this makes tackling the problem an intimidating feat.
Undoubtedly, people working in the charitable sector struggle with this mammoth task, but how about people who want to solve the issue through enterprise We meet two social impact entrepreneurs who are unafraid of the challenge.
Dimitris Vassiliadis, Founder, Giving Streets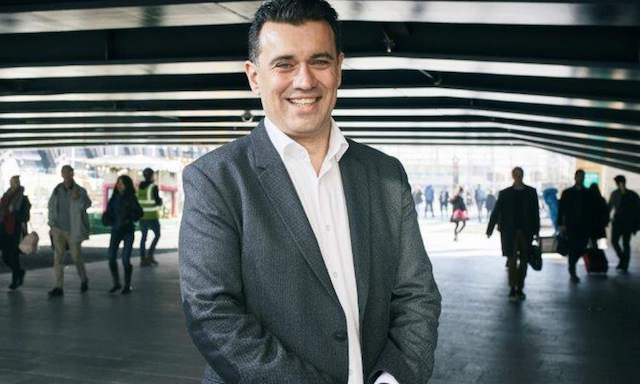 "It all started when I was working in the City of London," says Vassiliadis. "I used to go back and forth between Liverpool Street and Aldgate. But I couldn't ignore the contrast between the people in suits and those rough sleeping," he adds.
"I reached in my pocket but like many people these days, I had no cash or spare change, we are such a cashless society, so it's tough to help homeless people out, even if you want to."
At this point, Vassiliadis turned to close friends to help build the business idea, "we all came together and just asked the question, 'what can we can do about this problem?' We combined our expertise, we are all technical people, so we decided we could help solve the issue through tech," he adds.
Empowering mindful and impactful donations
"The app empowers homeless people to be in driving seat of their own destiny," says?Vassiliadis. "It also puts the donor at ease because we can moderate the transactions which mean donations will not be used for things like alcohol purchases."
"By 2023, we want to provide 20 million meals, and more than 1 million stays in hostels for homeless people. We're about first response work, if you need us, we re there."
Social impact built by blockchain
"We wanted the platform to be open to the public so that donors can see where the donations are going," says Vassiliadis.
"This provides accountability. For example, a donor can look at the app and say, 'this week I've donated £10 in ten different places, and the money went towards helping a homeless person buy groceries in a supermarket or spend a night in a hostel'."
Peer to peer lending is also a space that Vassiliadis can see a commercial opportunity in, "this space is vast," says Vassiliadis," I believe that our technology can also help this section of people become more mindful about how they?re spending and how much they are spending," he continues.
How secure is the platform?
"All the transactions all guaranteed," says Vassiliadis. "There's zero chance that any transactions could be lost or compromised, and blockchain has really helped aid that level of security."
However, in terms of wider commercial impact, has Giving Streets come at a convenient time "I believe so," says Vassiliadis. "I think people are starting to move outside the banking remit framework."
"The beauty of our technology is that we can connect with any sort of open API in terms of tax authority because we're totally transparent and have accountability outside the banking system," he adds.
Cemal Ezel, Change Please: Transitioning from founder to CEO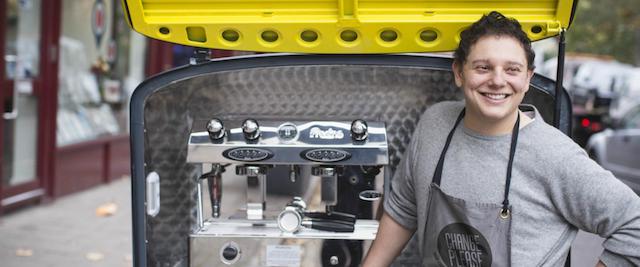 Ezel's goal is to 'shut up shop' in five years. Source: tbd.com
For Ezel, his early vision for tackling homelessness was to overcome people's "paralysis of decision", namely the moral conundrum a passerby feels when they walk past a homeless person, where the inner monologue goes,' will they spend my money on food or shelter, or will they spent it on drugs or alcohol?'
"100% of our profits go straight back to combating homelessness. We supply our coffee to gym chains and Virgin trains, it's all about how we can change supply chains in business to do good."
Understandably, this train of thought may be seen as unfair or even judgmental by some, but they are common thoughts nonetheless, and crucially, they stop many people from helping homeless people out.
"I saw that the demand for coffee was going through roof in the UK, so I thought, why don't we facilitate that demand Ok, you can solve homelessness through building more housing, but you're not solving the employment issue that homeless people face," says Ezel. "By going down the employment route, we re stimulating direct action," he adds.
"Government hand-outs or random donations aren't the answer. We sell our coffee products to corporate offices, we supply gym chains even Virgin trains."
But Change Please does more than employs homeless people to produce their coffee products, "we're serious about finding, training, and upskilling these people for the long-term," says Ezel.
"We provide housing and a bank account, we also give our staff access to therapy and support throughout their employment, including when they get a job for six months afterward."
Fighting homelessness might mean we'll close the business one day
"Wanting to eventually close our business might sound strange, but it's our ultimate goal for there not to be any more homeless people on the streets in the future. So that makes us different to purely commercial businesses that are completely profits driven, and therefore want to go on forever" he says.
"The founder might think, "I've built the business, I know best. But making a positive social impact isn't about a founder's ego. Success in impact business is about eradicating a problem for good, not making profits because of a problem."
"What's the beauty of social enterprise It's the fact that the goal is bigger than any individual person, it's about solving a problem and eradicating it, it's about fulfilling a mission for good."