Monday 10 September marked?
World Suicide Prevention Day
. Thankfully, there is an increasingly open dialogue on the issue. But how much are we talking about it at work? We spend the majority of our week at our places of work. What's more, health and wellbeing are becoming ever important in daily discussions over social media and among friends and family, so why not in the place in which we spend the most time? Whilst employees can work to create an open environment for mental health discussions, it's up to employers to change the company culture on perceptions of suicide and develop an awareness of preventative strategies. As developing depression is a stepping stone to becoming a suicide risk, employers must asses and address elements of their culture that could be making employees anxious.
The workplace has the potential to save lives
Not only is the office a place where many of us spend a majority of our weekdays, its
very existence holds the potential to save lives, claims The International Association for Suicide Prevention
. Not only do they have the potential to foster a sense of purpose, a populated office is a natural environment for promoting social connections between people. Managers should encourage job satisfaction in employees via regular meetings where their personal objectives should be discussed. They should also promote a friendly and personable work culture to encourage employee wellbeing and mental stability.
Maintain a gender balance when identifying those at risk
The
male face of suicide risk has been well noted in recent years
. However, employers must not let this awareness obscure the significant risks women face as a group. Whilst men between the ages of?20-49 ? the group that are most likely to be in full-time employment ?
are at significant risk
, women are more likely to attempt suicide. This is at a shocking rate of?
one in 14 women compared to one in 25 men
. With the media focus on the suicide risks young and mid-life men face, there is a danger that vulnerable women might be ignored.
Mental health training saves lives and company money
Healthy bodies really do make for health minds.
If employers invest in the health of their employees by providing things like medical insurance and health screenings, they are more likely to have better mental health and work productivity as a result.
Become a mental health ambassador in your workplace
It's important that HR employees, managers and other senior members of staff engage in mental health training. This should encourage staff to spot the signs of suicide risk, including stress, anxiety, and evidence of substance abuse.
Another benefit of?access to mental health training in offices is that it encourages a happier, and more productive workforce as a whole, which means fewer staff absences and resignations.
Sharing really is caring
Access to secure and confidential counselling is also an aspect businesses can work on. Studies have shown that talking about depression and suicidal thoughts can lessen the risks of suicide in victims, so it's important that businesses encourage a safe space at work so risk victims can vocalise their thoughts and gain support.
Encourage a 'fitness first' environment?
The
benefits to mental health that exercise offers
?is well documented. Considering this almost universal acknowledgement, businesses should ensure that this culture is evident in the workplace. As members of desk-bound staff are likely to be in a sedentary position for most of the day, it's important that businesses promote exercise-related activities.
The NHS estimates that regular exercise can lower risks of depression by up to 30%
, so by promoting depression-combatting activities, businesses also decrease the risks of suicide in employees.
Invest in employee health?
Healthy bodies really do make for healthy minds. If employers invest in the health of their employees by providing things like medical insurance and health screenings, they are more likely to have better mental health as a result. Such initial investments can lead to great pay-offs in terms of loyal, happy and productive employees who work for their companies longer. This also leads to greater interest from potential employees who will be attracted to the company because of its positive culture.
Monitor your 'boozy work culture'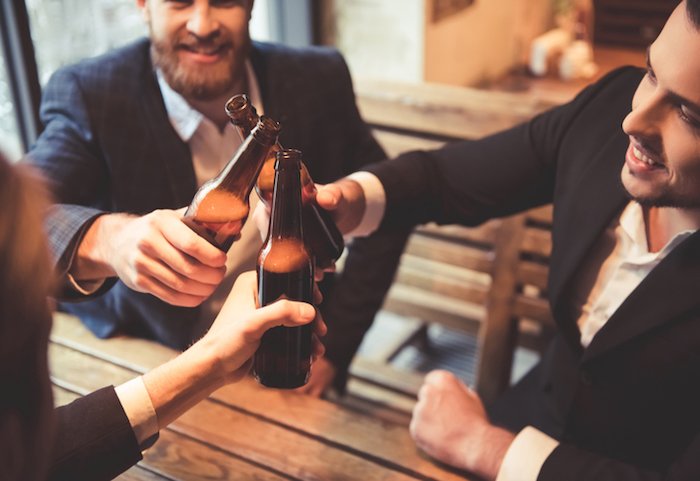 Whilst promoting a 'vibrant and fun' culture is important for businesses and their recruitment objectives, an overly-hedonistic work culture, including
frequent drinking, can lead to increased mental health problems in employees
?trying to juggle long working days and social pressures.
The risk of suicide is eight times greater if a person is abusing alcohol
, and in high-pressure work environments within cities, the boundaries can become blurred when it comes to what is considered social drinking, heavy, or even abusive, alcohol consumption. To help rectify this problem, businesses must encourage alcohol-free activities when it comes to team-bonding events such as physically active day outings. Establishing shorter and more comprehensive working hours is also likely to decrease employee stress, which in turn lessens the likelihood that employees will turn to alcohol to cope with fatigue and mental stress.
Share this story