This year has fundamentally altered the approach businesses will take to their real estate portfolios. Within the course of a few days – or even overnight – business premises were vacated and, ten months later, many remain empty or at very low occupancy.
For almost a year, many companies continue to pay for expensive real estate that is not getting any use. Even with negotiated rent reduction, the buildings must be maintained to ensure they are safe when the workforce is ready to return.
On the human side of things, the months of remote working have been both challenging and beneficial. A majority of workers polled reported that they would like to continue working from home a few days each week once the pandemic has passed. However, many are eager to return to the office in some capacity as remote working has come with significant challenges to health and productivity. The world of work post-Covid will be reshaped by the adaptations that have been made in the past year.
Of the things we missed most about the workplace, collaboration and social interaction were high on the list for many. Team building, social interaction, and the ability to bounce ideas off one another cannot be fully recreated in an online environment. The post-Covid workplace will undoubtedly reflect this.
Ongoing risks
Even when the vaccine has been fully rolled out, we will not see 100 per cent immunity in the population. Around 70 per cent vaccination is enough to offer herd immunity, reducing individuals' chance of exposure to the virus and massively reducing the pressure on hospital care so those that are vulnerable can receive treatment.
Knowing this, however, will not totally dissipate fears. Many people have re-evaluated the way they see their environment, becoming far more conscious of potential exposure to illness. It's highly likely that some people will choose to continue working from home unless the office offers features that remote working cannot.
The post-Covid workplace
Even traditional offices provide an element of social interaction that remote working cannot. However, with continued fears of Covid and other freedoms offered by working from home, the post-Covid workplace will need to amplify the benefits it does have to offer to attract people back.
These changes are accelerating the evolution of the office from a place of work to a service. Those workplaces that are well designed, facilitate productive and innovative work, and attract talent will be the key to rebuilding a sense of community and purpose after the pandemic.
That is not to say that remote working will disappear. On the contrary, we are likely to see a far more balanced approach in which remote working forms a large part of daily working practice. This means that organisations will need to re-evaluate their approach to corporate real estate. Providing individualised workstations will be a costly and unnecessary expense when many people will use theirs only two or three times a week.
The future is flex
Numerous organisations were already looking to add flexspace to their real estate portfolios long before the pandemic. Post-pandemic, we are anticipating a significant rise in demand.
There has been so much disruption over the course of the year and even when things settle, many anticipate continued economic uncertainty. Huge numbers of organisations have had to restructure and adjust their business model to survive the pandemic.
In the short-term, organisations will be looking to reduce the cost of their assets and many will opt to downsize. Longer-term, however, as they rebuild, we may see rapid increases in organisational size. At this point in time, a flexible portfolio is one of the most important elements in allowing an organisation to adapt and thrive.
Flex can also allow businesses to reduce the risk in their real estate portfolios. For many businesses, real estate is the second highest cost after staff, due in part to lengthy contracts that may last five, ten or even 20 years. A 12-month licence in a flexible office greatly reduces the risk, and the cost of flex can sit on a profit and loss statement instead of the balance sheets.
New working opportunities
With the flexspace market having been booming prior to the pandemic, the market is full of innovators. Turning to flexspace will give organisations an opportunity to adapt to new priorities and working styles developed over the past year.
Many workers may wish to see colleagues but aren't willing to return to a long commute. Where this is the case, satellite offices are a great solution. Those organisations likely to see significant changes in employee numbers over the coming months and years can opt for shorter term contracts that allow them to re-size accordingly.
The flexspace market has endless potential but for this very reason, many organisations fail to get the best out of it. We are seeing an evolution away from the traditional workplace to flexspace, agile working approaches, and membership spaces.
Those without experience in these new approaches should begin their research now. The sooner you are able to find a workplace that serves your organisation, the less cost is wasted on unused space. Understanding the fundamentals now will place you in a great position for when lockdown ends.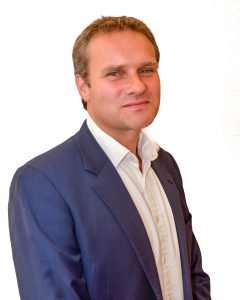 Ben Hutchen is head of property at Clarendon, a flexible space operator with buildings across London and the south. Ben joined Clarendon in 2017 to manage the company's rapidly expanding portfolio and innovative new flex products. Ben has extensive experience in the UK real estate markets, and a wealth of knowledge in corporate real estate and the flex sector.