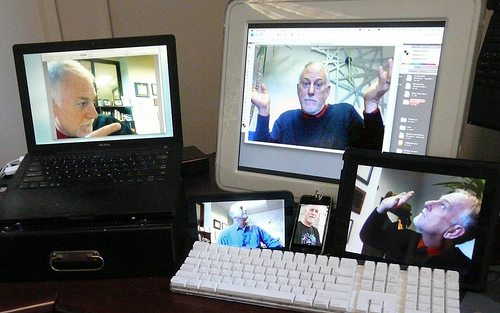 The World Economic Forum has come up with 23 companies that it describes as "technology pioneers."
According to this list, chosen by a global selection committee, the beating heart of innovation remains in California: ten out of the 23 are based there. Three are British. Two are in east coast USA, and two are in Germany. There's one each in China, India, Israel, Sweden, New Zealand and the Netherlands. 2007 was the best vintage: eight out of the 23 technology pioneers were founded in that year. Add to that the three apiece that were founded in both 2006 and 2005, and it shows that world-changing innovation doesn't happen overnight. The newest technology pioneers on the list were China's Anhui LIGOO New Energy Technology and the UK's Azuri Technologies. Both started in 2010. The oldest company on the list is the 12-year-old bioinformatics software company Ingenuity. Collectively, these technology pioneers employ 2,788 people. The Indian company, Promethean Power Systems, only employs seven, and Azuri Technologies 13. Take those two minnows out of the equation and the average payroll is 123.
Provides a "collaborative approach to network security" with an open source platform acronymed as OSSIM (open source security information management).Operates via a freemium mode. Its "Open Threat Exchange" provides constant update on security threats from its 18,000 users.
Address the security problems of lost phones. Claims its geotracking recovered nine million lost phones last year. A mobile threat tracker alerts subscribers to threats on the network. Phones can be scanned for hostile attempts at intrusion.
Well known to Real Business, Michael Acton Smith's Shoreditch outfit creates online games, puzzles and cartoon monsters for 5 -12 year olds. He calls it stealth learning; 60 million kids signed up since going online in 2008.
Seriously brainy Tel Aviv company that provides the raw tech and algorithms that enable Microsoft's Kinect to see movement and react. They are all about making computers respond to the physical gestures of users rather than the other way around. MIT reckons that "gestural interfacing" as a key disruptive technology, enabling robots to operate with true autonomy.
This company's myCloud is a platform for private and hybrid cloud computing. It provides a framework for developing and testing private cloud infrastructures at low risk. The money come from the consultancy and service offerings that follow. They ought to know about this stuff; the founder began at Amazon and the goal is to equip companies to manage their own clouds.
A shopping app that allows loyalty programmes to work as soon as shopper enters the store. It has recently signed a partnership with Mastercard; 3.5m people have tried it in 7,000 stores across the USA.
Berlin's offering is this online publishing platfrom for musicians and more. Sound creators can upload files with their own URL to make it a distribution platform. Additional premium services create the revenue streams.
Think of Stephen Hawking's communication technology becoming widely available. Tobii's system enables users to communicate by tracking eye movement around a computer screen. It won't just be for paralysed users; Tobii is exploring video games and other applications.
High quality videoconferencing on multiple platforms. Vidyo's Adjustable Video Layering technology means that video conferencing with iPhones is feasible as the processing is handled by the phone. A technology that slashes the costs of transmission.
Chinese company whose battery management system will expand efficiency and improve safety, from electric vehicles to smart grid power supplies.
Simon Bransfield-Garth's Cambridge-based company enables rural families to rent solar-powered light instead of having to buy expensive and CO2-heavy kerosene. Villagers, cut off from electric power, can rent an Azuri system consisting of a solar charger and two powerful LED lights. They then purchase scratch cards in a local store and send the card?s number by mobile phone SMS to Azuri?s servers, which return an SMS with a code that unlocks the system for a designated rental period. A week?s power can cost as little as $1.25. Some 4,000 sets have been sold in Kenya so far.
Creates the incentive for business to make battery charging stations more widely available. Coulomb's charging stations can be used in housing estates, car parks and by companies – making charging up more convenient.
Improves the efficiency of solar arrays. Enphase installs a micro-inverter on each solar panel so that if one panel fails to operate it won't have a knock-on effect. Apart from boosting overall output, the inverter also reduces installation costs. Currently accounts for 28 per cent of residential solar systems in California – and the worldwide inverter market is estimated to be $7bn.
Uses genetically modified bacteria to convert carbon monoxide into ethanol. Initial target is the exhaust given off by steel plants: it is estimated that they could end up producing 50bn gallons of ethanol a year by using this system. There's a demonstration plant in China and the US Federal Aviation Authority has provided a $3m grant for research.
Ocean research becomes cheap and automated. Wave Gliders – self-propelled surf boards carrying a mass of instrumentation – can cover wider areas of ocean and can upload their findings to satellites in real time. We will extend our knowledge of climate change, the workings of the oceans and its wildlife.
Colin Calder's Newbury-based company co-ordinates domestic energy use. It can be controlled via an app. And it doesn't just turn the heating on and off but also monitors and responds to current weather conditions. The claim is that its system reduces energy costs by 23 per cent or more.
Pune-based company that keeps milk chilled in rural India through a chiller that works essentially as a thermal battery. Milk is only the beginning. The founders have an eye on chilled storage containers for vegetables. Set to transform India's rural economy.
Uses gallium nitride instead of silicon for converting AC power to DC power. Apparently it is much more efficient and would lead to a reduction in the need for cooling devices that are required to prevent electronic circuits from overheating.
Makes ultra-thin lightweight vacuum insulation panels – a 20mm panel provides the same thermal insulation as 20cm of conventional foam or fibre. va-Q-tec also rents insulated shipping containers and provides a range of logistics and tracking services.
A new approach to desalination. Voltea claims its Capacitive Deionisation technique can purify more than 80 per cent of water that passes through its system, thus producing far less salt brine as waste.
Pioneering software in bioinfomatics, analysing vast amounts of data from a variety of perspectives. Ingenuity has a database containing the records of millions of individually modelled relationships between proteins, genes, complexes, cells, tissues, metabolites, drugs and diseases. It's a vital tool for all the large pharmaceutical companies.
Designs wearable electronic circuits that are way more flexible than current miniature devices. Apparently they look more like tattoos than monitoring devices. The uses are infinite for any monitoring of humans – from babies to athletes.
Free medical records on the cloud. Electronic health record system that is free to use, if you accept the advertisements. Or you pay for an ad-free service.
Image source
Share this story