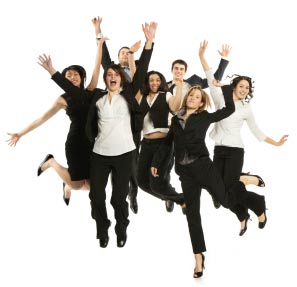 Research conducted by Bupa finds that many small businesses are not taking full advantage of their ability to be adaptable to their employees' needs.
Only 9 per cent of SME workers have been asked what benefits they would actually appreciate, and just a quarter (29 per cent) of companies tailor them to suit their staff. Two-fifths (44 per cent) think their company needs to "seriously reconsider" how employees are rewarded. Indeed, worryingly, as many as one in three (32 per cent) SME employees are planning to leave their job in the next 12 months to join an organisation with better benefits. "SMEs can often make changes more easily than larger organisations and they should embrace the opportunity to ensure their benefits appeal to their current and potential employees," says Richard Norris, SME director at Bupa. Half of employees (50 per cent) think that companies underestimate the part that benefits have to play in the overall feel of the company, and a similar number (51 per cent) believe that not offering benefits damages an employer's attractiveness to new recruits. Employers taking their benefits packages seriously should see the results, though, with 59 per cent of those who work for small and medium-sized enterprises believing that offering the right benefits helps foster a happy, motivated workforce.
What are the top 10 benefits valued by employees?
Pension (68 per cent)
Extra annual leave day (66 per cent)
Bonus scheme (63 per cent)
Early finish Friday (62 per cent)
High street vouchers (57 per cent)
Free meals (57 per cent)
Dental / optical care (57 per cent)
Private medical insurance (56 per cent)
Social vouchers (53 per cent)
Life insurance (53 per cent)
It's the little things that count
Benefits come second only to salary in attracting employees to a new company, the research found; with two in five (42 per cent) believing that benefits are the most important consideration when choosing a job. In fact, two in five (43 per cent) employees feel more motivated by being treated well on a day-to-day basis than receiving a pay rise. "The power of the benefits package in attracting, motivating and retaining employees should not be underestimated. Those who do so, face the very real risk that talent could be lost to competitors," adds Norris. "Leaders must take steps now to engage with their employees to help create the right environment for them to flourish and perform, ensuring they feel valued and rewarded. Ultimately, this will help drive the business forward."
Share this story