During COVID-19, businesses have to be fighting fit if they want to survive, and veteran consultant Cuan Mulligan is the person with the expertise to help. For the past twenty years, he has provided businesses with transformation support and training to help them reach their goals.
So what is a transformation and why does it matter?
"Transformation is an overused word, so it's worth defining," says Mulligan. For me, a transformation is an extraordinary change to a company that is designed to materially and positively change the value of the enterprise.
Transformations are born when there is a burning need to survive," he adds. Most transformations we see are around saving money, doing what you do cheaper and faster while maintaining quality.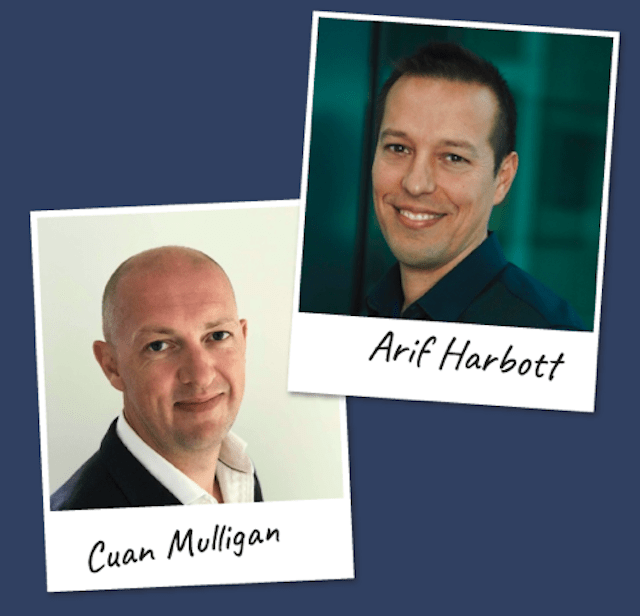 Mulligan has used his decades of consulting experience to inform the content of his new book entitled, ?The HERO Transformation Playbook?, which he penned alongside his co-author, Arif Harbott. We compared notes from the conversations we were having with businesses and knew there could be more of a formulaic approach to transformation," says Mulligan. So we created a framework which allows businesses to design and deliver it.
The pair wanted to write a book that wasn?t just a motivational text but one with actionable advice on how to achieve transformation, ?when you read other books, you feel enthused, but they don't equip you with what to do," he says. Our model in black and white terms tells you every single step to design and deliver transformation, from every meeting, every role, to every structure you need to run a successful transformation.
"I've had clients with massive budgets saying to me, ?make things better?, but they don't know what they want.
Mulligan believes that successful transformations are dependent on the right people of a business being invested and dedicated to the outcome and gives an example from an old client to show why it's so important, ?one client was based in an open office so we raised a request to find a working room for the team as it was hampering productivity. Not only did it take three months to get the room, it was not fit for purpose when we got it," he says.
The reason the request was met with such a slow response, Mulligan says, was because the people responsible for controlling the meeting rooms were not part of the transformation, they were in a different building and were therefore disconnected from the problem itself.
However, a disconnected team isn't the only barrier to successful transformation, he says. There are lots of statistics on the web about the amount of transformations and change programmes that fail, and there are far too many for our liking, so we looked across all our experiences and researched many other transformations and identified 'The 5 dysfunctions of transformations?.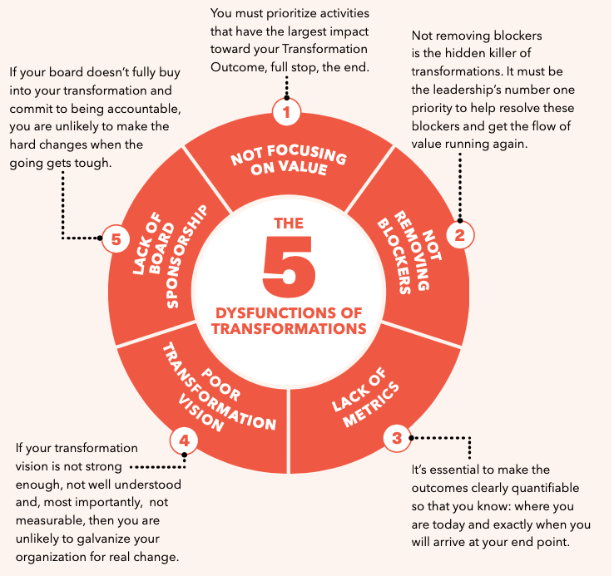 ?For a business to deliver a successful transformation programme, they need to address these dysfunctions or they are very likely to fail. This is why we created the HERO Transformation framework. HERO helps you design and deliver your transformation and is designed to mitigate each of the 5 dysfunctions.
At the core of a HERO Transformation is a sense of dual accountability, says Mulligan. In most organisations, accountability runs one way, which is down. The senior person gets to hold their subordinates accountable on delivering an outcome. That's all well and good, but what happens when that subordinate gets blocked There is no mechanism to get that blocker removed quickly, or to hold anyone accountable for removing it. In a HERO Transformation, the transformation leader can still hold their workstream leads accountable, but the workstream leads also have the right to hold the transformation lead accountable for removing any impediments that get in their way of change.
"Companies require the humility of their leaders to say staff can and should hold them accountable if things get in the way of transformation.
If lack of accountability hampers transformation programmes, in what sort of business is this most likely to happen?
"I would say that bigger firms can afford bad behaviour," says Mulligan. There's a higher motivation for SMEs to be open to trying new things as bad behaviour hurts them more financially. When it comes to achieving transformation during times of change, SMEs win again he says, 'smaller companies can move quicker, but they must also understand what they want to change, how feasible it is and what they have to put in place to get there quickly.
However, a number of businesses try to transform for the wrong reasons, Mulligan warns. A common mistake they make is engaging in a transformation because their competitors are without understanding why they?re doing it themselves, ?once, I asked a client that was already midway through a transformation what the purpose of their transformation was, they said, 'stop asking you're making me look foolish,?" he says.
"In many organisations, there's a disconnect between what they want and what's feasible, where the culture is ?go and do" instead of asking ?why?.
"Most organisations are not designed for change," says Mulligan. You put in a process and people leave it alone. It then becomes old and inappropriate especially if it has been designed with limited knowledge, but people use it anyway. Instead of this, he says businesses must challenge ingrained processes and question if they really are 'sacred to their organisation, as they could be blocking the business from transformation; 'say you're a digital business and your site goes down, you get it fixed, you drop all the unnecessary processes and just get it done, don't you
After the emergencies are sorted, Mulligan says businesses tend to go back to their 'slow and lethargic ways of working, but they shouldn't, ?when you feel you don't have a choice you cut out the stuff that's not important transformation comes from that place.
Mulligan and Harbott's book, 'The HERO Transformation Playbook' is out on September 22, 2020. Pre-order it here.