New research reveals the UK is currently leading the way in the creation of billion-dollar tech businesses and has contributed the most value to European's $240bn tech ecosystem.
Even so,it has failed to produce any companies of a sufficient size to compete with the world's biggest tech businesses. Facebook, Baidu, Ant Financial, Uber, Didi Chuxing, and Tesla still rule the roost, so the likes of Darktrace and Monzo may take a while to catch up, according to a new report on the state of tech growth funding from GP Bullhound.
UK in focus: Is London still Europe's leading VC hub
The report reveals that UK businesses are still leading the pack in terms of numbers and value. There are 26 billion-dollar companies from the UK that have a cumulative value of $64bn. This is a steep advantage compared to the next most active unicorn markets in Europe, Germany and Sweden, with 8 and 7 billion-dollar companies in the fold.
According to Alexander Mann, an associate at London-based venture capital firm Concentric, UK may be in the lead, but it's still early days for growth businesses.
"The UK's start-up ecosystem is still quite nascent but given time, we re confident there will be businesses that crack the £10bn mark, and perhaps soon. Revolut and Deliveroo are some obvious contenders," he tells Real Business.
For Simon Wax, partner at financial adviser Buzzacot, it's a great time to be a UK tech SME, but the biggest challenges tend to stem growth. There are three primary challenges they face which impact this."
"Firstly, funding for companies in the UK tends to be slower and venture capitalists are more risk averse than in the US. Secondly, investment is currently too heavily focused on startups rather than scale-ups, and so is not enabling companies to get to the next level. And finally, the uncertainty around Brexit has led to concerns around a possible skills shortage, as the UK relies heavily on the global talent pool and inward investment."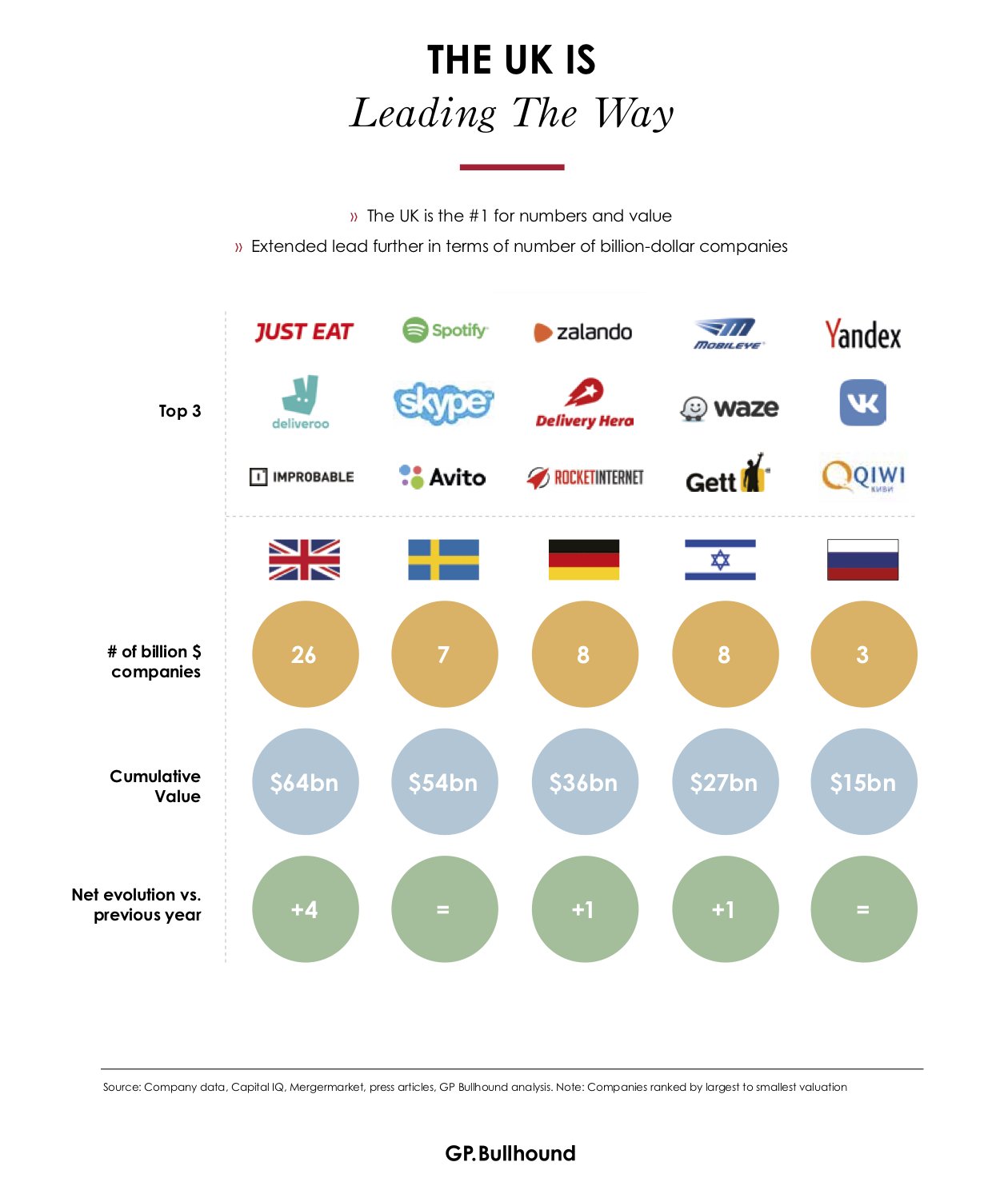 "In order for UK tech companies to be able to scale at the levels needed to compete with the likes of Baidu and Uber, more investment is needed from government and the private sector to focus on our niche sub sectors, especially fintech and creative tech which have the potential to grow on a large scale."
Are valuations the ultimate measure
Lofty valuations may skew the way we measure success and growth potential in the UK and the wider European ecosystem.
Valuations are nearly always higher in the US as more money is flowing into a similar number of deals, says Concentric' Mann. This means more competition for the best companies.
"The UK also suffers from a virtual absence of institutional support for growth venture funds, limiting the scaling potential of many young businesses," he adds.
According Buzzacot's Wax, however, it's important to remember that not every company needs to be a unicorn.
"Culturally we are often bought up on sound, long-term growth," he explains. "Entrepreneurs that know where their business sits, and can and will sit amongst their industry, will be the ones who win. The ones who too quickly sprint towards 'unicorn' are unlikely to."
But to gain this level of confidence and comfort in their own business model, entrepreneurs need to be fully supported by all investors and advisers, he adds. "Running a start-up is a stressful world and to thrive, businesses need to be allowed to grow in the right way, to the right scale.
Market size matters
The home market in US is also many times larger than the UK, enabling its startups to reach considerable scale even without going international. "Operating across state lines is easier than crossing borders, due to shared language, lack of customs, taxes and regulations," Concentric's Mann explains.
Even so, UK tech companies have been slower than they should have been to move abroad, either into Europe or beyond, he adds. Again, this is beginning to change as the barriers to doing business internationally decrease.
Nina Searle, associate at UK law firm TLT, believes the differences in the investment landscape here and across the pond is the main variable. "UK companies are at a relative disadvantage to their US counterparts in a number of key areas," she tells Real Business. "Venture capital investment is a much bigger part of the US economy and culture, and the sources and structures of US funds means that they can support the number and size of fundraising rounds needed to grow a company to unicorn status."
Could a low risk appetite be holding businesses back?
According to GP Bullhound, with more billion-dollar tech companies than ever and the largest year of fund-raising on record, it is clear that Europe can rival the US and Asia as a hub for tech companies. The biggest barrier for UK's (and even Europe's) unicorns scaling further is their appetite for risk- or lack thereof.
"Entrepreneurs and investors need to find the courage to put the company on the line a couple of times throughout its journey. We see that when we look at companies of scale like Spotify," according to Marvin Maerz, an associate at GP Bullhound and one of the authors of the report.
"It takes support from investors to prepare for management teams to take those risks. But those risky decisions are crucial to help companies grow quicker."
UK tech companies have also historically sold out at an earlier stage, before reaching their full potential. This could tie in with the report's take on challenging entrepreneurs to take more risks.
"For example, AI research company, Deepmind, perhaps could have done amazing things?on it's own"had it been able to secure the funding"for it. Instead they had to sell to Google to realise their ambition. Similarly, the microchip giant, ARM, was sold for £24bn but given time could have been worth 10 times more," says Concentric's Mann.
"We are now seeing UK founders" ambition levels increase, as they look to compete with Silicon Valley, not just sell to them."
On a similar note, TLT LLP's Searle says UK companies often struggle to find experienced and talented leaders who can take them to the next level of growth. "Founders of UK businesses also generally have to keep everything invested until exit with little opportunity to de-risk before that point because we lack investors with sufficient scale and patience to enable founders to partially de-risk on the journey. As they retain such a high level of personal risk, many decide to exit at a value that will give them sufficient comfort rather than continue to grow their business to the mythical end."
Does Europe's tech companies have Silicon Valley-style growth potential?
Last year, GP Bullhound introduced the concept of tech titans to Europe. These are young tech companies with a valuation of $50bn or more. A number of fast growth tech companies emerged from their research, but none of these companies have valuations in the same league as the Baidus and Teslas of the world.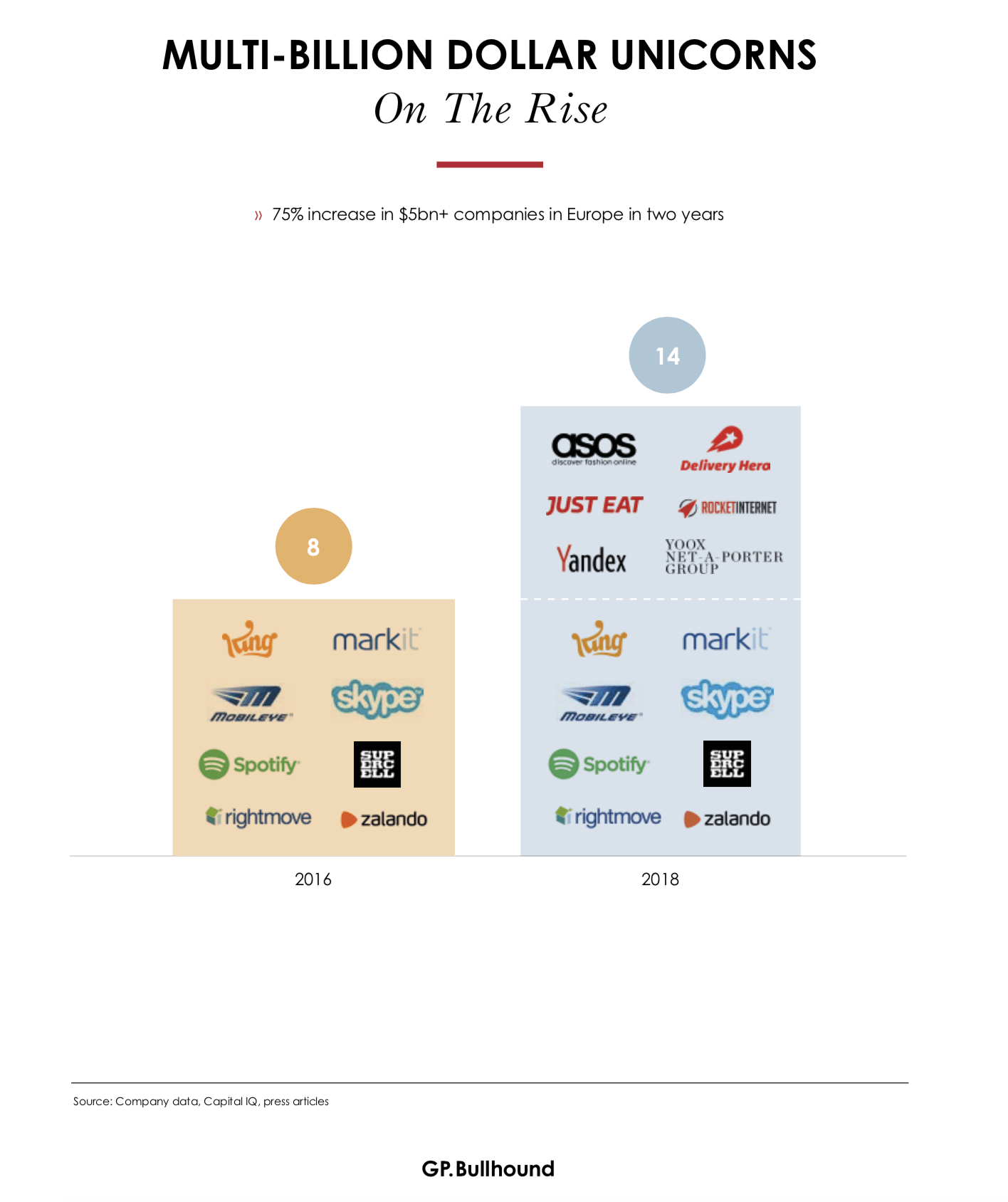 Beyond Spotify, companies like Zalando and Delivery Hero were identified as being well on the way to achieving titan status.
Maerz believes that the current state of the European tech ecosystem is proof positive of its growth potential.
Traditionally, investment hubs from Barcelona to Berlin, has always had strong support in terms of early-stage capital. From incubators, government grants, accelerators, crowdfunding and even good old fashioned bank loans, businesses at the fledgling growth phase have a wide range of options to get started and scale.
But does Europe's investors have the goods when it comes to financing businesses looking for raising series C capital and beyond
"I think Europe is increasingly showing that it has the capital to scale businesses to this level, but founders now need to know when to make bold decisions, when to bet the house on long-term growth and when to expand globally," says Maerz. "Spotify shows it can be done, and we expect more businesses to follow."
"We don't see a lack of possibility after series B to raise capital. In addition to European investors, we've seen a lot of investors from the US and Asian come to Europe to help with growth equity and later stages," he adds.
Unicorns are not as rare as they used to be
According to GP Bullhound, billion-dollar businesses are no longer as elusive as they once were. In 2014, there were 30 billion-dollar tech companies in Europe, founded since 2000. Now there are 69, all totalling a cumulative valuation of $240bn.
The past year alone has seen 14 new businesses worth a billion dollars or more pop up and take over the European tech world. These include robotics process automation software Blue Prism and end to end digital banking app Revolut.
The businesses that have hit that billion-dollar mark are still powering forward. In the last two years, the number of tech companies in Europe worth $5bn or more has almost doubled, from eight in GP Bullhound's 2016 report to 14 now. This may be largely because of investor appetite, however.
2017 marks the highest year of tech investment on record for Europe's billion-dollar companies, with $20bn raised within Europe in 2017, increasing from $3bn in 2014.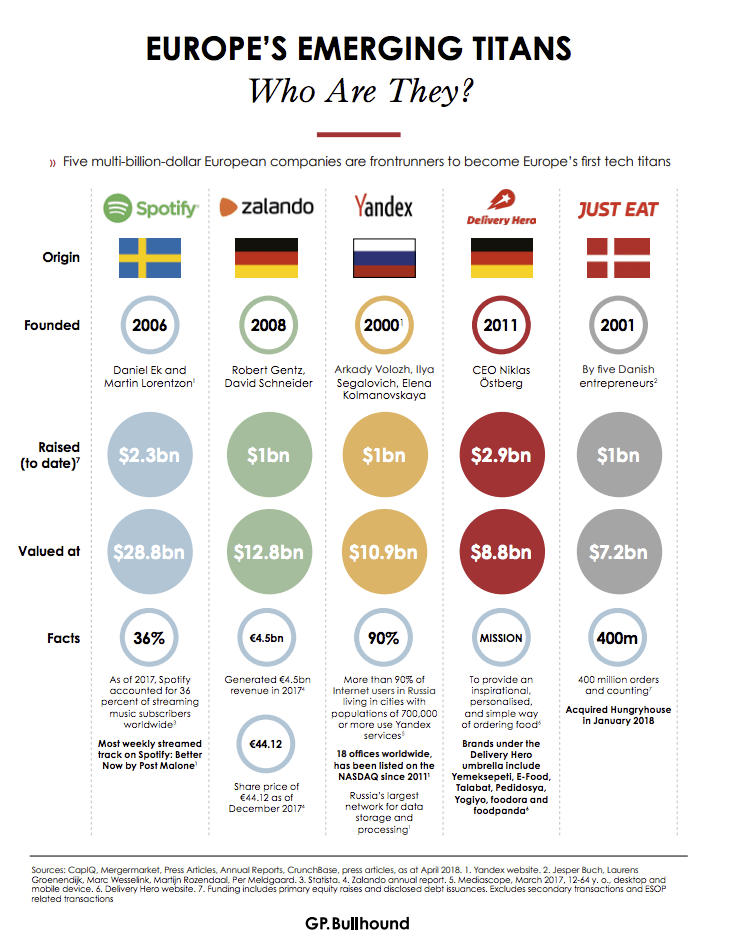 Since 2014, five companies worth $10bn or more have emerged into Europe's tech scene: Yandex, Zalando, Supercell, MobilEye and Spotify. Of these, Spotify remains the frontrunner to reach the $50bn mark to even register as a blimp on the radar against businesses like Facebook and Baidu. Spotify's valuation has grown by 122% to $29bn in the last year, but American and Asian tech giants still dominate the global market.
The US generates almost half (48%) of the world's billion-dollar companies, while Asia created a third (35%) and Europe trailing behind at 17%.
The inflow from capital outside of Europe has been significant and increasing steadily, says Maerz.
"Those investors interested in supporting businesses at the growth stage do look at companies that are currently at the incubation and acceleration stage. "There's a change needed in terms of mindset," Maerz adds. "European investors and management teams need to start thinking about how they approach risk. We see that happening more and more."
According to TLT's Searle, investors need to play the long game. "Most investment funds are only structured for ten years, at which point they need a return on capital," she explains. "We also don't often see the level of investment that is needed to grow to unicorn size."
Change is clearly in the air for Europe's growth-minded entrepreneurs, whether it's an organic shift in thinking, or embracing their inner ambitions to scale.