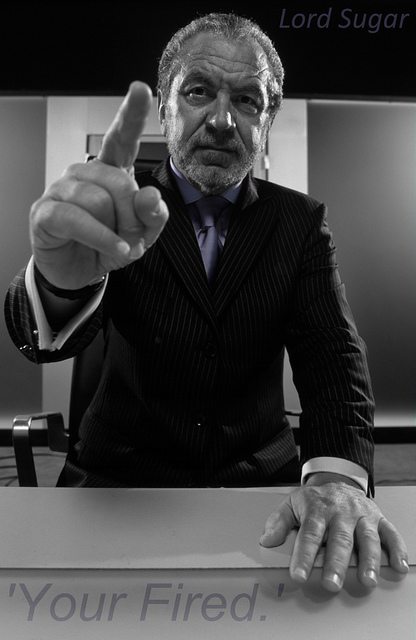 I see that the Young Apprentice returns to our screens this coming week and in a moment of idleness flicked through the descriptions of the candidates.
In fairness, these descriptions are reported snapshots of the personalities and achievements of these young people, but being bright and savvy, they are clearly aware that these few lines are going to be the basis of their public image. Based on this, there is clearly some confusion as to what is inspirational or aspirational in a public image. Many are keen to push their diversity of recreation; the group includes four or five musicians, assorted sports enthusiasts from golf to tramp lining, rugger and football (and that?s the girls), and some with interest in a variety of performing arts There is a former head girl and a former school prefect. There are a couple of early politicos who have already held Young Ambassador of Local Chair committee roles. Many are keen to promote their good works, with awards for contributions to the community, charity work, medical fund raising, not to mention a first business that donated 20 per cent of its profits to charity. The cynic in me reads the lists wondering about the balance between the gain to charity and the gain in PR value to the bottom line, or in this case, the application. Not least, this cynicism is brought on by the one line quotes the candidates are encouraged to offer up as a summation of their characters. These snap shots are where it all falls apart and the carefully written, balanced CVs that have been so painstakingly prepared fly out the window – it's here my worry lies. We have the downright stupid, ?I just like being at the top. I don?t want to be in the middle, floating, I just want to be right on the top because there is nothing higher than the top.? Really? Nothing higher than the top? Glad you learned something at school! There are the predictable, ?I keep my eyes on the prize,? and ?I don?t take no for an answer,? as well as the ?heart of a lioness? line. (I am sure we have had one of those lions or lionesses competing in an earlier adult series.) But then it gets more worrying. One or two speak about control, and it's probably true that most of us running businesses have a little tendency that way. However, one quote caused me to read and read again in case of error. David from Luton boasts, ?I have a disease called megalomania; this is a condition that means I am highly obsessed with wealth, power and omnipotence.? David also aims to get his name in the history books ? well, it 's true to say that other megalomaniacs through the ages have succeeded in doing this. Some of them were Adolf Hitler, Napoleon, Benito Mussolini, Alexander the Great, Josef Stalin, Mao Ze Dong, Idi Amin, Franco, and Juan Peron. The Young Apprentice is of course entertainment. However, it does contain a message of what is, in theory, a standard to aspire to for the young and the future of this country. While the BBC ponders its record over promoting Jimmy Saville, perhaps they should consider what they are currently in the throes of ? a serious promotion of a concept of success which for many of us would be relabelled destructive and immoral, if not evil.
Jan Cavelle is founder of the Jan Cavelle Furniture Company.
Image source
Share this story