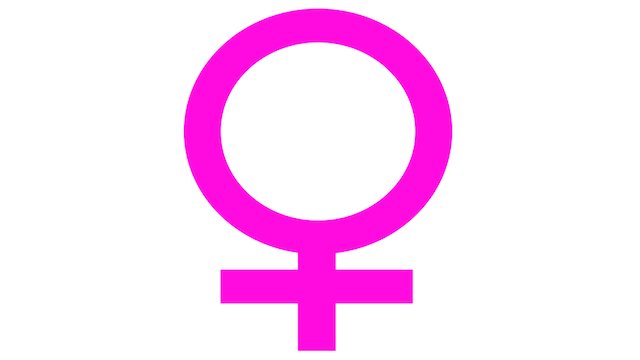 Despite their unassuming exteriors, offices are some of the most politically charged spaces in public life. Inside, there are many things for staff to navigate and manage, including relationships between junior employees and managers, managers with their managing directors, and managing directors with everyone else. When it comes to other social groups, such as BAME workers and women, there's even more to navigate. While International Women's Day comes once a year, women face barriers, issues and inequalities in the workplace on a daily basis, and they're not always obvious to others which is why we all need to know them in order to fix them. Here are just three:
1. 'Period pains'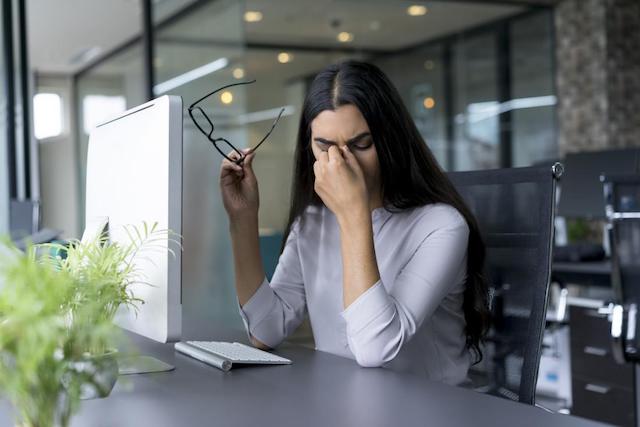 For women that menstruate, working in an office with a lack of adequate sanitary facilities can be an irritating experience. While larger corporate spaces and shared office buildings tend to have multiple sanitary bins to accompany their numerous (and often) gender-specific toilets, smaller offices, and those with only have one or two unisex toilets, may not have enough bins to accommodate the needs of the number women working there. The mere fact of having to use a sanitary bin in a toilet space that's also for male use could make some women feel as if their safe space has been invaded, taking away the privacy many crave when using the toilet. For some female employees, menstruation can be unpredictable, meaning they could suddenly require sanitary products without having brought them to work. When this happens, they usually have to rely on the kindness of other women, hoping that someone has a spare product in their handbag or office drawer.
The solution
Dealing with female sanitary issues in an open setting with men present can feel embarrassing, where the act of taking one's handbag from the office desk to the toilet can feel like a public spectacle. Businesses could help by providing an adequate number of sanitary bins for their female population as well as an abundance of sanitary products in office bathrooms, sparing women the public humiliation of asking for assistance.
2. Related health issues
For women dealing with the menopause, menstruation and
endometriosis
, facing a normal day at the office when they might be experiencing pain, fatigue and discomfort is something that women at work are expected to do. Menopausal women can experience heat flashes across their body, excessive sweating, insomnia, depression and mood swings, where symptoms can range from mild to severe. Women who menstruate can also experience adverse physical symptoms including stomach cramps, tiredness and headaches, all of which can make a working day more difficult. Despite the negative impact these symptoms can have on the productivity of women in the office, businesses continue to do little to help. While things like '
menstrual leave
' are now being discussed, it still isn't a mainstream HR policy.
The solution
If women experiencing these issues are forced to take leave under the banner of 'illness' and not specifically due to these biologically related conditions, they could run the risk of appearing more 'absent' from their workplace, making them appear less resilient than their male peers. If women aren't given allowances, including the ability to work from home or to take leave when symptoms become severe, they could face an uphill struggle when it comes to productivity and promotion parity with their male counterparts.
3. Dress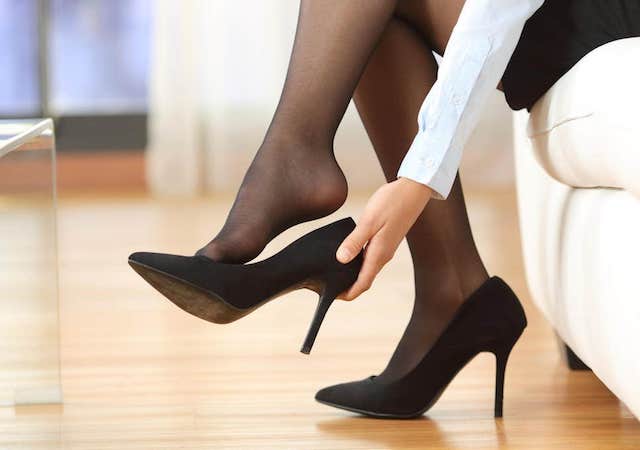 Women in the workplace are also at a disadvantage to men when it comes to norms surrounding dress and appearance. In sectors where women are relative newcomers, such as banking and insurance, female employees are generally expected to dress in quintessentially feminine clothes. This 'smart' appearance, which usually means a suit and groomed facial hair in men, can mean makeup, blow-dried hair and wearing high heels for their female counterparts. Even if some women enjoy this way of dressing, it means they perform more unpaid labour grooming themselves for work before they even start the day. For those that feel coerced into doing so, it could mean exhaustion and burnout further down the line. In more casual workspaces, women are still generally expected to wear makeup, meaning many spend
thousands of pounds
on related products during their lifetime. A study from 2018 revealed the gendered dynamics of workplace dress first hand: The study found that women who were more 'groomed' at work tended to be paid more. The same study also found that these rules did not apply to men in the workplace, showcasing the need for a gender-neutral standard of work dress to be established. However, professional women have already been making a stand on this issue. In 2017, a
parliamentary enquiry
into workplace dress codes (prompted by outrage over the dismissal of a female employee from an accounting firm for refusing to wear heels), concluded that more work had to be done to uphold the 2010 Equality Act to protect workers from discrimination.
The solution
To create a workplace where women feel able to dress how they like, (but in a manner appropriate for work), business owners must work with HR teams to create guidelines that promote a mainstream vision of presentable dressing without gendered dimensions. Office dress codes must stipulate the need for all staff to take pride in their appearance, but this should be relatively subjective ?" and might include makeup and heels for some women, and for others simply a smart outfit and a fresh face. Female employers and managers must lead by example on this issue; and if they want to unpick narratives that say 'women
must
wear heels and makeup to work', senior staff need to take that brave first step by coming into the office without these things.
Share this story