To celebrate International Women's Day, Real Business is casting a spotlight on six women-led businesses that are focused on innovation and wellbeing. These entrepreneurs are driving forces behind disruptive and unique companies you need to know about.
Karen Jackson, Didlaw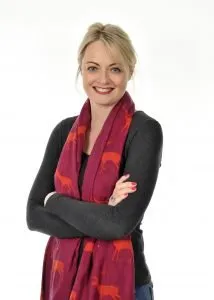 The first woman in the UK to undergo a "beating heart" transplant in 2008, Karen Jackson has used her own experience of extreme illness and recovery to create Didlaw, a law firm specialising in disability discrimination in the workplace. Didlaw doesn't just offer clients legal advice; they provide support for individuals in tumultuous, stressful situations. The business is unique as the only UK law firm practising exclusively in this area of law.
"I created the business because I saw a gap in the market and because I wanted to do something meaningful if I was lucky enough to survive. Living on borrowed time means making a difference becomes very important."
The law firm is an early adopter of the four-day working week and provide their team the flexibility they need as parents and private individuals, discouraging the 'long hours culture' that is a feature of other firms. It was tough to establish Didlaw in an over-saturated industry and compete with firms that had decades of experience and huge budgets. Jackson built her business and its reputation through positive customer testimonials, engaging in online dialogue about illness and work, providing free lectures, and expanding her network in employment law. As more law firms begin to focus on the growing need for employment law experts, Jackson has put her business ahead of the curve by choosing to specialise from day one. The business is now focused on growth and recruitment to meet the demand for their services. Due to the sensitive nature of disability discrimination and Didlaw's more bespoke, holistic strategy for client relationships, Jackson only retains the best lawyers and employees within her company, helping them reach their career goals while providing a family-friendly environment for working parents to thrive.
Margo Manning, The Bute Group
Margo Manning has over 30 years of experience in management and development, founding The Bute Group in 2005 to produce and provide exceptional management and leadership learning opportunities. The business delivers training, development, and 1:1 coaching programs that move away from traditional, theory-based strategies and focus on engaging, fun, memorable experiences that professional actually benefit from.
In 2014, Manning and her team designed their 3:2 Management and Leadership Model that follows five key components: developing attitudes, changing behaviours, boosting skillsets, meeting goals, and achieving high-performance outcomes. This management model has garnered fantastic results and very positive client feedback. The company's experienced coaches travel internationally to work with business on their management and leader development strategies, including top FTSE 100 companies. The Bute Group intends to build a recognisable global reputation as industry leaders, moving to a business model where companies deliver their service in-house through licensed partnerships. Manning focuses on customer retention, recommendations, and long-standing business relationships as significant markers of success for her business. She has also enjoyed success as a best-selling author with her two books: The Step-Up Mindset For New Managers and The Step-Up Mindset For Senior Management.
Alicia Navarro, FLOWN
Founder of Skimlinks and most recently, FLOWN, Alicia Navarro has been involved in building tech platforms since 2008. FLOWN is a deep work toolkit helping freelancers, teams, and students focus on tasks effectively and ensure they can make the most of their down time. After stepping down as CEO of Skimlinks, Navarro had taken a sabbatical to decide her next steps for her life and career, during which she read Deep Work by Cal Newport. Inspired by the ideas presented in the book, she designed and created a platform to enable professionals and learners to achieve deep work and flow states. While Navarro faced challenges introducing and launching FLOWN into a highly competitive market, the platform stands out from other AI-led apps or pre-recorded content because of its strategy to lead with human connection. FLOWN source compelling and diverse personalities to lead live deep work sessions where users can set goals and share a digital workspace with other professionals. The business is challenging people's perceptions of the working day, educating the market that their working hours should be fulfilling and validating and FLOWN helps facilitate a more positive relationship between users and their work. They have seen admirable success, with 50% of trial users remaining active three months into joining and attending an average of four sessions per week.
Tessah Aihara, The SEO Mama
Tessah Aihara had been learning SEO since 2009, sharing her knowledge on building and ranking sites with friends to help their businesses. After becoming a mother, she wanted the time and flexibility to be with her child. She decided to use her knowledge to launch her own SEO agency, working with six-figure niche site owners, course creators, and other inspiring SEO experts to innovate and maximise current practises. The SEO Mama agency aims to create a more sustainable method for providing Google with the best content and information to promote websites with useful KPIs.
"We are producing a lot of case studies right now on how we could do SEO and digital PR as well as how we could connect to the KPIs of our clients, such as traffic, client sign-ups, and email subscribers."
As a small, women-owned agency, The SEO Mama struggled to compete with larger agencies and to build an industry reputation that people take seriously. COVID-19 also interrupted the business' development, as businesses had to adjust their budgets and couldn't afford to employ an SEO agency. The company is currently working on its scalability, implementing necessary processes and automations that allow Aihara and her team to focus on recruitment, onboarding new clients, and managing cash flow. Aihara places a huge emphasis on providing opportunities to candidates from minority and under-represented groups, creating a diverse and inclusive working environment. With a clear passion for education, she hopes to produce accessible courses, teaching SEO and digital marketing skills to support business owners, with a long-term goal of fundraising and establishing schools to provide free education in the Philippines.
"Everybody in this world is equipped for good work, we have our own talents or skills, and we can all shine."
Lesley Cooper, WorkingWell
Lesley Cooper founded WorkingWell in 1997 to help companies manage workplace and employee wellbeing in a way that facilitates growth and development. With over 25 years' experience as a management consultant, Cooper had researched how employee emotional health and short-term absences were inherently connected, and it became obvious how poor employee wellbeing can damage performance and profitability. There was an opportunity to engage companies in a dialogue about raising the wellbeing standard and how they would benefit from a more intentional approach to maintaining employee health.
"Having recently returned to work after my second child, I was experiencing how difficult it can be to square the divided loyalties of being an engaged parent and partner with the demands of a corporate job. I married my knowledge of the business opportunity with my need for more control of my time and set up my own consulting business."
WorkingWell created a unique, in-house system to administer a suite of global diagnostic tools to help improve performance and target learning. The award-winning tools enable clients to quickly assess the impact of workplace stress on team members, workgroups, or the organisation as a whole. By identifying issues that negatively impact employee performance, WorkingWell helps professionals adjust their working practises to prevent burnout without compromising on health support and sustainability. The business initially found it difficult to educate companies on the advantages of implementing preventative employee management systems, rather than services that offered team treatment after the damage was already done. The pandemic has highlighted that this is an ongoing issue for employers. WorkingWell was shortlisted for Best Wellbeing Service Provider at the Great British Workplace Awards 2021. Cooper has co-authored the books Dangerous Waters – Strategies for Improving Wellbeing at Work and Managing Workplace Stress – A Best Practise Blueprint with the late Dr Stephen Williams.
Janthana Kaenprakhamroy, Tapoly
Tapoly is an award-winning digital managing general agent that provides a full list of commercial insurance options specifically for SMEs and freelancers. Founder and CEO, Janathana Kaenprakhamroy previously held a successful career in investment banking as a chartered accountant, holding several senior positions at top tier banks. The concept for Tapoly was born out of Kaenprakhamroy's own need to secure an insurance policy to rent her flat through Airbnb. Wanting to protect herself, her property, and her guests, but also needing the short-term flexibility the sharing and gig economy thrives on, she found almost no options that suited her needs.
"As the gig economy grows, I am passionate about ensuring tailored insurance products are available online for the 2.2 million freelancers and SMEs in the UK, providing cover at a fair price so they have peace of mind when working."
Tapoly also creates bespoke SaaS solutions for insurers their distribution partners to drive automation and industry-wide digital transformation. The business creates new insurance products for alternative markets that aren't available to them through traditional channels. In the beginning, Kaenprakhamroy and her co-founder, Sam Hopkins, did not have any background or experience working within the insurance industry and spent the first 18 months upskilling and attending education programs. The COVID-19 lockdown has accelerated the need for flexible and on-demand insurance, especially for the fast-growing, freelancer sector. Kaenprakhamroy has been repeatedly recognised as a leader driving substantial change for women in technology entrepreneurship: Tapoly was awarded Insurance Provider of the Year at the British Small Business Awards 2018 and was a finalist for Technology Service Provider of the Year at the Insurance Times Awards 2021. Kaenprakhamroy was named Insurance Leader of the Year at the Women in Finance Awards in 2021.