By 2023, the global financial technology (fintech) market is expected to be worth $305.7 billion and everyone looks to get a piece of the action.
Traditional financial institutions like banks and insurers are all investing"heavily in their infrastructures and digital channels. Fintech pioneers like PayPal and XE.com continue to enjoy sustained business in their respective segments. Even tech giants like Google, Samsung, and Apple look to participate by offering their own digital wallets. With new developments in technologies like mobile computing and blockchain, even startups are boldly entering the scene.
Interestingly, XE.com, which was founded back in the mid-1990s, seems to have weathered the various tech and financial bubbles of the past two decades. The company may have been acquired by payment services provider Euronet Worldwide in 2015, but the brand continues to be successful today. In December of last year, XE.com merged with money transfer service HiFX. Both now operate under the XE.com brand as a full-feature cross-currency service. A rundown of the site's features and functionalities can be seen in this XE.com review.
As a pioneering finance-oriented dotcom, the company's longevity is quite notable. Lasting more than two decades in a competitive fintech market is no easy feat. Here are some entrepreneurial lessons that you can gain from XE.com's story.
Be open to pivot
One of the harsh realities of starting up is that not everything will come your way. Even with a lot of planning, patience and hard work, securing early wins might prove tough. When an approach or business model doesn't quite work, it's important for you to acknowledge this fact and be open to pivot.
The XE.com that we know today is a result of multiple pivots. It started in 1993 as Xenon Laboratories Inc, a company established by two childhood friends Beric Farmer and Steven Dengler who initially wanted to commercialise an early software. However, Farmer and Dengler soon learned that finding a revenue stream for their plan was difficult. They changed course and looked to provide internet access to downtown schools in Canada. When they found that the schools were not ready to adopt their proposed tech, they decided to pivot again.
In 1995, the two founders launched a currency converter called Universal Currency Converter on their website. This gave birth to XE.com. Within a few years, it became one of the most popular currency sites in the world. This just goes to show that one initial ?good idea might not work, but through constant work it's possible for you to find your winning formula.
The financial services sector is dominated by heavily entrenched traditional institutions. It can be intimidating to be the David to these Goliaths. However, by being agile enough to pivot and iterate, you may be able to find that underserved niche or segment where what you offer can have real value.
Secure and build upon early wins
Entrepreneurs should display the drive and hunger to get their business off the ground. XE.com co-founder Beric Farmer emphasises how their efforts to grow their site were instrumental to their later success.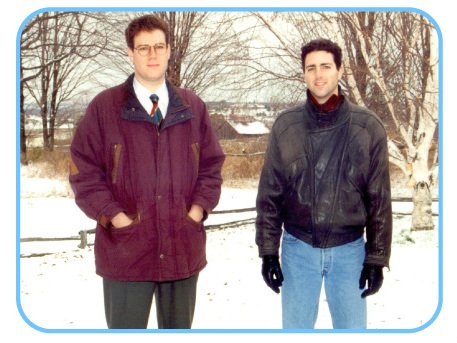 XE.com grew their audience by encouraging users to link to their site. They developed tools that allowed users to customise their currency converter and incorporate it in different websites. So, when Google's algorithm placed heavier weight to backlinks, XE.com was already in a solid position to have a high page ranking. By tirelessly building on this status, XE was able to expand readily when they launched their international payment platform in 2002.
After securing early wins, it's even possible that you may achieve a level of success beyond what you initially planned. When you reach such a stage, it can be tempting to just finally sit back and be content with how things go. However, complacency can be a dangerous thing. It stops you from innovating and finding new ways to make your business and industry better.
Watch out for new trends
Technology is very dynamic. The driving force behind many businesses today, you need to always keep an eye onAny new tech developments for opportunities that may arise. XE.com's early adoption of many emerging trends helped increase its revenue growth and market position.
Mobile apps:?XE.com launched its app for iPhone relatively early, just a year after the App store's launch. Its early participation in the apps game allowed it to establish a strong mobile presence. In just its first year, the XE mobile app was downloaded a million times.
Cloud computing:"In 2012, XE.com started leveraging cloud computing to enhance their products and ensure quality service, especially when there is high information demand.
Responsive design:"In 2013, XE.com launched a website that is fully responsive in different platforms and devices. Two years later, Google started boosting the ratings of mobile-friendly websites which allowed XE.com to maintain its search ranking.
Alexa:?XE.com also launched a bot which enables customers to access XE Currency information through Amazon Alexa. This allowed the company to be used through over 100 million Alexa-enabled devices.
These moves to capitalise on emerging technological developments allowed XE.com to remain relevant. By establishing its presence on new platforms, the company ensured it will be able to continue serving users even if their behaviours and preferred channels through which they use the service shift.
Take calculated risks
XE.com wouldn?t have lasted this long if the company or its founders didn?t manage risks. It's important to take caution when dealing with technology. Early adopters assume plenty of risk. Faults in platforms and the underpinning infrastructures can instantly torpedo any effort.
In any highly competitive landscape like fintech, you need to be receptive to new ideas and take calculated risks to sustain your business and remain relevant. XE.com has shown the many ways one can thrive in a dynamic, fast-paced market.
XE.com's founders may have eventually sold to Euronet, but their profitable exit is certainly another move that's paid off.